Located on the corner of a quiet alley of near Jalan Bangsar Utama sits a no fuss no frills French restaurant serving traditional French cuisine known simply as Chez Gaston. The restaurant seeks to do two things, provide affordable French cuisine without compromising on quality, to ensure that everyone will have a chance to taste some famous French dishes, ranging from their beef bourguignon to their home made pâtés.
The restaurant is located on the corner of Jalan Bangsar Utama 9, and feels like you're walking into a little French countryside restaurant with its iconic green bicycle parked outside. The eatery is quite open, with tables placed adjacent to large-paned turquoise windows giving an almost al fresco dining experience.
Chez Gaston is run by Chef Florian Nigen, a native of Bretagne who has been in the culinary industry for over 30 years. He is also the previous owner and Chef of Rendez-vous restaurant in Bangsar. He has been traditionally trained in French cuisine and has implemented many of his own family recipes passed down by his grandmother, which are served at the Chez Gaston. When asked what his philosophy is when it comes to cooking he replied: –
"I put all my knowledge and heart into preparing our wide selection of typical French meaty and seafood dishes along with delicious French desserts to excite everyone's taste buds. At Chez Gaston we serve affordable traditional French food. French cuisine is usually so expensive in Malaysia, and that's what I wanted to do, let everyone be able to try some of our famous home dishes. Some of our famous dishes include our fish soup, which was my father's recipe. We also have many different homemade patés and foie gras, prawns Moscato, beef bourguignon, duck confit, chocolate mousse, and floating island." — Florian Nigen, Executive Chef of Chez Gaston.
Affordable French Cuisine
The whole idea behind the cuisine at Chez Gaston is so that people can savour authentic French home-made dishes without costing a too much, and that's what he's managed to do. Most of the starters cost only about RM20.00 (USD5.00) with main courses not costing more than RM50.00 (USD12.00).
Chez Gaston Menu
There are 3 menus available at Chez Gaston, and they are: –
The first course, an amuse bouche, was the Onion Jam and Pâté on Toast. Good starter, umami filled and opens the rest.
The second course, a starter, was the Terrine de Saumon (Salmon Terrine), consisting of salmon terrine served with cocktail sauce and basil dressing. The terrine was quite light and had a pronounced fishy taste, but went well with the sweet cocktail sauce.
The third course, a starter, was the Plateau de Chacuterie (Mixed Platter), consisting of Parma ham, saucisson, two terrines, air-dried duck breast, gherkins and onion jam. The two terrines may change according to season, but this time we were served a country style pork terrine and wild boar terrine. This dish was probably their best starter with a generous helping of cold cuts with different level of fattiness. The saucission was marbled, while the duck breast adding to a heavier texture and flavour. Each component played well with each other, with the gherkins adding some briny sweetness.
The fourth course, a salad dish, was the Salade Raclette (Raclette Salad), consisting of tossed salad with vinaigrette, garlic sautéed potatoes, pork bacon bits, Parma ham and melted rich raclette cheese on a baguette stick. This was another one of their good dishes, which was full of meaty flavour from the fluffy garlic potatoes and pork bacon bits. The raclette baguette pulled the dish together with a nice creamy umami texture.
The fifth course, a main course, was the Confit de Canard (Duck Confit), consisting of duck leg cured in sea salt and slowly cooked in its own far, served with creamy brandy sauce. The duck leg was tender and free of fat, yet crispy to the bite. The meat came apart quite easily and was complemented with the thick brandy sauce balancing out the rendered meat. This dish is highly recommended.
The sixth course, a main course, was the Boeuf Bourguignon (Beef Bourguinon), consisting of Australian beef cheek cooked for 8 hours in a thick red wine sauce. The meat was really tender that it comes apart with a tug of the fork, with a rich and intense flavour from the red wine. The dish was hearty and was definitely the star of the night. If you want to taste what a good beef bourguinon is supposed to be, give this a go.
The seventh course, a cheese course, was the Plateau de Fromage (Cheese Platter), consisting of Roquefort, brie, chèvre and raclette. A good board consisting of different milks and textures.
The eighth course, a dessert, was the Île Flottante (Floating Island), consisting of a soft meringue floating island on an egg and vanilla custard.
The ninth course, a dessert was the Mousse au Chocolat (Chocolate Mousse), consisting of 62% dark chocolate mousse. This dessert is one of their specialities.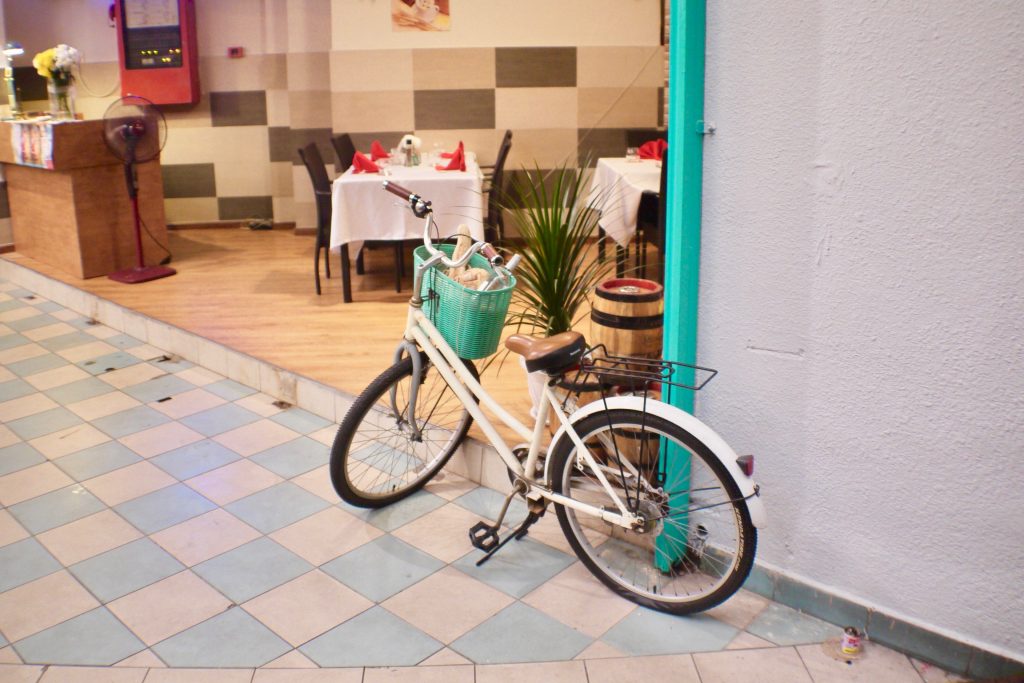 The Chez Gaston Experience
Chez Gaston offers up a very simple dining experience, one which is casual yet full of flavour. The restaurant seems to gear towards meat, with almost every dish packing quite a lot of protein. When asked what they were trying to deliver to its patrons when it came to a dining experience, Chef Florian chimed: –
"Chez Gaston is a traditional French restaurant and bar located in the heart of Bangsar, only a few minutes from Telawi streets and 1 minute from the LRT station Bangsar. Our concept is not only to make authentic French cuisine affordable but to offer a laid-back ambience in which to truly relax and enjoy great food and drinks with family and friends ."
There is one thing that is definitely certain when dining here, you will get a full meal and you will get your money's worth.
---
Chez Gaston
12, Jalan Bangsar Utama 9,
Bangsar,
59000 Kuala Lumpur
+6011 3993 0036
Opening Hours:
11.45 am to 2.30 pm,
5.00 pm to 10.30 pm.

| PHOTOGRAPHY BY: NICHOLAS NG & CHEZ GASTON  | WEBSITE: CHEZ GASTON |