Found within the winding walkways of the Grand Millennium Hotel sits Lai Ching Yuen 荔晶园, a Cantonese-style Chinese restaurant, famous for its dim sum fare. This little gem offers some of the best dim sum you will find in town, and being in the heart of Kuala Lumpur with the plethora of Chinese restaurants round the corner, this is no simple task. As all traditional dim sum aficionados know, the only way to test the skill of a dim sum chef is to taste one of their basics, their har gow, (蝦餃, prawn dumplings), and siu mai (燒賣, pork dumplings).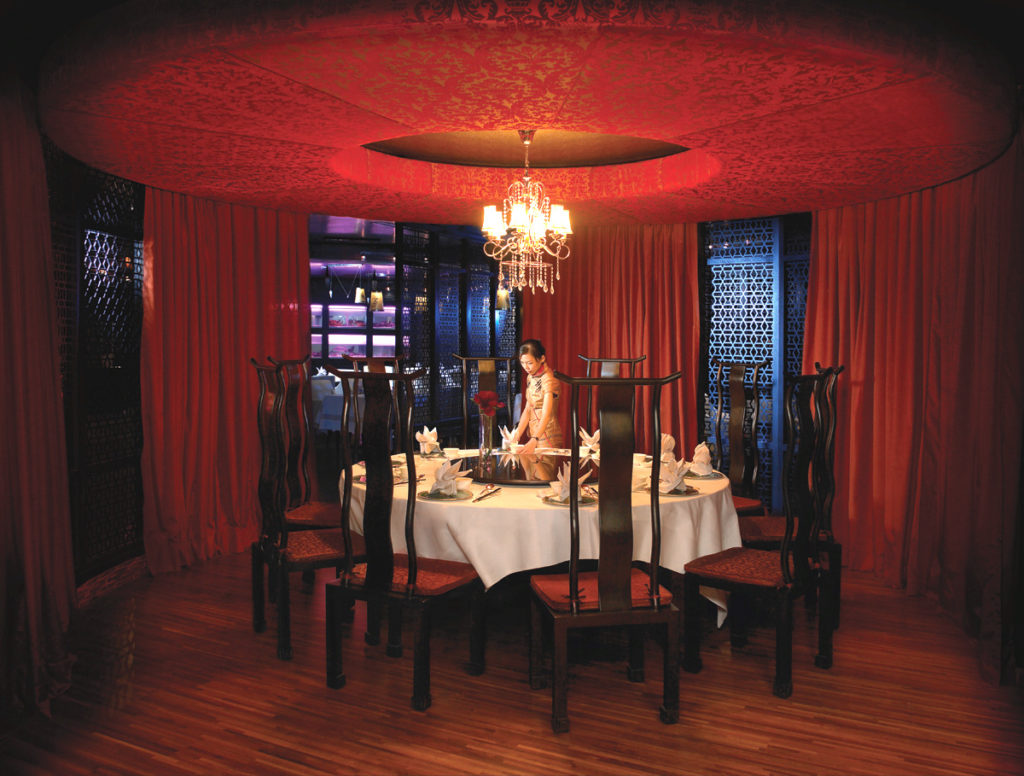 As you enter Lai Ching Yuen you are greeted by its traditional Chinese façade, complete with rosewood and a red hue that is distinctively Chinese. As you walk in, you are greeted by heaps of bamboo steaming trays sit on top of one another, waiting to steam dim sum dishes for orders placed. Being in operations since 2007, guests at Lai Ching Yuen may also opt for a more intimate setting within its classical red and black signature room with its rounded red  ceiling, or if preferred, in the settings of one of the elegant seven private rooms. Savour signature dishes by its acclaimed chefs such as roast suckling piglet, assorted meat, exotic live seafood and abalone. One of the highlights of Lai Ching Yuen is also the daily Dim Sum made live in an open kitchen.
The kitchen is helmed by Executive Chef Thye Yoon Kong, dim sum chef who has managed to elevate the simple, yet complex art of dim sum making. Chef Kong has been a chef for a number of years specialising in dim sum and Cantonese, specifially Guandong cuisine. He has also previously worked with Merlin Hotel and the Regent Four Seasons. Ever since he has helmed the ship that is Lai Ching Yuen, the restaurant has been elected as the best Chinese restaurant in Kuala Lumpur in 1992, 1993 and 1997. When asked how does his cooking style differentiates from other Cantonese restaurants, he said: –
"My cooking style is different from other restaurants in which I still maintain a very traditional Cantonese approach with a touch of local flavour, and not to mention, produce." — Thye Yoon Kong, Executive Chef of Lai Ching Yuen
Lai Ching Yuen Dim Sum Menu
The dim sum menu here is like most places you will find, simple elements on a white sheet for you to mark your dishes. The menu is divided into 4 parts, Steamed dim sum, Baked dim sum, Porridge and Dessert. The simple items on the menu are deceiving to the eye as when they are presented, they leave you surprisingly impressed.
The first dish to be served was the Seafood Dumpling with Spinach 海鮮白菜餃 a steamed dumpling filled with prawns, napa cabbage and a seafood stock. The skin of the dumpling glistens in a pool of seafood stock, and is warm to the bite. Peppered with pearls of prawn roe, the nice balance of flavour with the sweetness of the napa cabbage comes through.
The next dish that was served was off the Deep Fried Dim Sum menu, which was the Deep Fried Prawn Dumpling with Mayonnaise 沙律炸蝦角, a multi layered crispy dish, much like a mille-feuille, but savoury. This dish is topped with a generous portion of crab and prawn meat, drizzled with a nice dollop of mayonnaise and prawn roe.
The next dish was definitely the star of the night, the Steamed Siew Mai with with Fish Roe 魚子蒸燒賣, one of the most traditional and iconic of all Cantonese dim sum. The skin of the siu mai is nice and thin, but firm and not easily torn. The meat used is a equal fat to lean meat ratio, ensuring a nice mouth feel when you bite into it. The savoury drops of fish roe on the top adds to a nice contrast of umami savouriness to the siu mai, probably one of the best you will find in Kuala Lumpur.
The next dish was the Deep Fried Bean Curd Roll with Shrimp 鮮蝦竹皮捲, another highlight of the menu. The bean curd skin is nice and crispy to the touch, perfectly marinated with a sweetened soy sauce to compliment the dish. The prawns are crunchy and fresh to the bite, with a nice burst of flavours.
The Steamed Custard Bun with Egg Yolk 回味金筍流沙包, arguably one of the best dishes to order at a dim sum restaurant. This dish is made with a steamed bun filled with sweetened custard and an egg yolk. The key to a good custard bun is to ensure that the yolk is cooked just right, still in a melted state. The burst of piping hot flowing sweet and savoury custard is the desired effect of this dish, and the one at Lai Ching Yuen is definitely a must try, even for veterans.
The Chilled Signature Durian Pancake 榴蓮班戈 is a must try for durian lovers, with an ample serving of bittersweet durian flesh concealed in paper-thin skin. The bur of flavours is just what you was needed for the ending of a meal, and in typical Chinese style, it ended in a fruity delight.
Lai Ching Yuen Steamboat Menu
Lai Ching Yuen is offering a steamboat promotion at the moment with a fresh selection of seafood including fresh scallops, slipper lobsters and their iconic dumplings.
They also carry a nice selection of thinly sliced beef rib eye and tenderloin, and if you are a meat fan, the chicken is nicely seasoned and sliced thinly, leaving a very nice bite that is still springy.
The Lai Ching Yuen Experience
Chef Kong's years of experience has shaped his cooking techniques, and its is none other clearer than his culinary prowess in making dim sum. When asked what his personal favourite dim sum dishes are, Chef Kong quipped: –
"Char Siew Pau because it is one of four principle dim sum, Char Siew Pau (叉燒包, steamed barbecue pork buns), Siew Mai (燒賣, steamed pork dumplings), Har Gau (蝦餃, steamed prawn dumplings) and Lo Mai Kai (糯米雞, steamed glutenous rice with chicken), which all dim sum Chefs need to master as they are the must have dishes when a guest goes for dim sum breakfast or lunch. To gain mastery in dim sum making techniques, all chef will need to master these four principle dim sum. If a chef can make a great Char Siew Pau then the rest of his dim sum will be great."
There are not many restaurants in Kuala Lumpur that can produce the level of dim sum that Lai Ching Yuen can, especially when it comes to dim sum, a staple amongst the Chinese community in Malaysia. Lai Ching Yuen is definitely a recommendation if what you are looking for is an elevated authentic Chinese experience.
---
Lai Ching Yuen 荔晶园
Grand Millenium Hotel

160, Jalan Bukit Bintang,
Bukit Bintang,
55100 Kuala Lumpur
+603 2117 4888

Opening Hours:
12.00 pm t0 2.30 pm
6.30 pm to 10.30 pm
| PHOTOGRAPHY BY: LILA BAKAR & LAI CHING YUEN | WEBSITE: LAI CHING YUEN |
---