Situated within the city centre of Bangsar sits a quaint restaurant bar known as Knowhere Bangsar. If the name sounds familiar to you, it may be one of two reasons, you have either grown up reading the Marvel comics or have been an avid fan of the Marvel Cinematic Universe. This is because this restaurant bar is named after the infamous hangout for spacefaring misfits, with the environment to match, and drinks that make you think. Don't believe us? Try out the Gamora, a lychee laced vodka concoction.
Knowhere Bangsar is co-owned by Shalini Surian, restauranteur and brainchild behind the restaurant bar. Knowhere takes its name from the Marvel Universe which was introduced to us through the Guardians of the Galaxy franchise. Knowhere offers a mix of food and drink, but what really stands out are their impeccable cocktails. When asked how did the name come about and why it was used Shalini stated: –
"We call ourselves Knowhere just like the entity in the Marvel Universe. It's everything and nothing at the same time, a place where all the misfits go. We style ourselves as a bit of everything for everyone. Knowhere marries mysticality with a recognisable hint of nostalgia. It is the place you come to collect new memories, form new bonds, reminisce about the places you have been and still be reminded of your roots; incorporating global cuisine with Malaysian flavours we know and love. Our pork-free kitchen makes for an all-inclusive environment allowing you to make new friends." — Shalini Surian, Managing Partner of Knowhere Restaurant and Bar
Knowhere Menu
The Knowhere menu consists of a few two sections the drink and cocktail menu, showcasing some classic cocktails, original cocktails, mocktails and general drinks, and food menu, with sharing portions, tapas and complete dishes.
Knowhere Cocktail Menu 
The Knowhere cocktail menu consists of some classic cocktails like the Malaysian JungleBird and intepretations of local flavours, while the Original section are lighter tall concoctions. There is also a decent selection of mocktails and juices.
Smoked Popcorn Old Fashioned
The Smoked Popcorn Old Fashioned is a whiskey-based cocktail consists of whiskey stirred popcorn syrup and grapefruit bitters smoked with in house wood chips. The flavour of fresh popcorn comes through as an undertone, with a subtle sweetness, further enhanced by the smoky aroma from the grapefruit butters which has a slight lingering flavour of burnt wood chips. This was one of our favourite drinks, and if not because of its simple yet deep flavour, which was further made fancy by its presentation in a lighted glass dome.
Kopi Negroni
The Kopi Negroni is made with a base of spiced rum, with homemade kopi tongkat ali liquor and kopi hitam. Negronis are usually made with gin as its base, but this take on using a spiced rum as its base added a nice peppry flavour, with kopi tongkat ali liquor adding an earthy hint, completed with the robust local kopi hitam as its topper. The drink comes in a fancy skull carafe, indeed being a nod to the floating head of the celestial.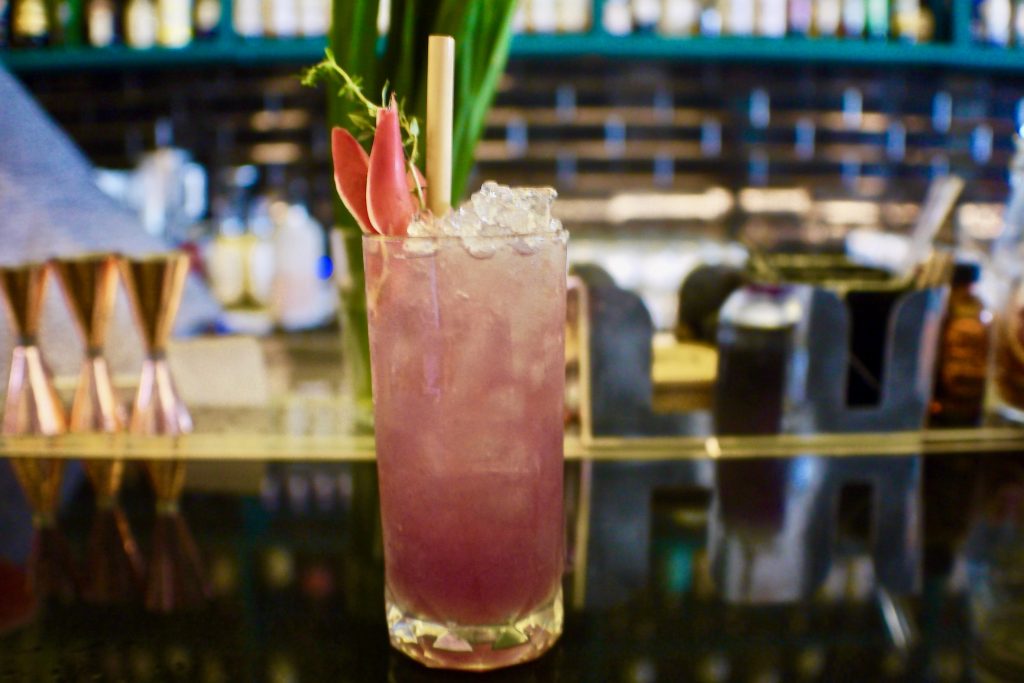 Kebaya Nyonya
The Kebaya Nyonya is a local inspired cocktail, consisting of butterfly pea infused gin, bunga kantan (torch ginger), Golden Falernum spiced rum, white chocolate and homemade grapefruit thyme soda. This drink went down very well, with its local spicy exotic flavours. The grapefruit thyme soda was the dominant flavour, with the torch ginger adding a slight pungency.
Sirap Setan
The Sirap Setan is another local cocktail inspired by the Sirap Bandung. This cocktail consisted of lemongrass and pandan infused gin with homemade rose water, cherry blossom and sours. The basil seeds at the bottom gives the drink quite the playful touch.
Gamora
The Gamora is a consisting of lychee vodka, celery, apple, thyme leaves, sours and celery foam. This cocktail takes its name from the infamous all green Guardians of the Galaxy heroine, and has the taste to match. For those looking for a balanced sweet and sour drink, this will do it for you. The lychee vodka carries the sweet flavour well, and is further fragranced by the thyme.
Osmanthus Breeze
The Osmanthus Breeze is made from gin with osmanthus syrup, apple juice, sours and cream cheese citrus foam. This drink has a bittersweet floral undertone from the osmanthus, but is further sweetened with apple juice. The cheese citrus foam is reminiscent of cheese bubble tea, making it quite the interesting drink. This drink is also served in a beautiful Ophir takeaway box.
---
Knowhere Food Menu
The food menu at Knowhere is divided into Tapas, Sharing Platters, Meats on Bread and Pizza, with each item making a decent menu to be enjoyed on its own, separate from its decent drink menu.
The first dish, a board, Sharing Platter, consisted of flightless wings, grilled calamari, baby shrimp and wedges. The flightless wings were extra crunchy and went perfectly well with the green sambal salsa and so did the thick cuts of calamari. The extra crispy baby shrimp made a perfect bar snack, with the extra fluffy wedges giving you a nice bite dipped in the honey mustard.
The second dish, a tapas, Lime Cured Beef Tongue, consisted of fine sliced house pickled beef tongue, spinach and onion chilli jam tartine. The pickled beef tongue also made a nice bar snack, with its onion chilli jam enhancing its flavours.
The third dish, a tapas, Smoked Plume and Plum, consisted of house smoked duck served with plum and peach salsa, mango sauce and onion marmalade. The smoked duck in plum is a clever combination, full of earthy umami and fruity sweetness.
The fourth dish, a tapas, Burnt Butter Steak, consisted of seared flank steak, sliced and drizzled with chilli burnt butter sauce. The burnt butter steak was flavourful, and not a bad choice if you're looking for a meatier dish.
The fifth dish, a sandwich, Flank Steak Reuben Sandwich, consisted of 150 grams of steak, sauerkraut, onions, emmental and jalapeños in sourdough, served with a side of fries. The sandwich came with generous slabs of flank steak, with its meat to bread ration gravely out of proportion, meaning that if you enjoy your proteins, go for this. An absolute favourite.
The sixth dish, a pizza, Duck Confit Pizza & Seafood Malaya Pizza, consisted of two pizzas, half and half, where the Duck Confit Pizza consisted of flambé style pizza with onion marmalade, confit onion and duck confit, while the Seafood Malaya Pizza consisted of mild spicy sambal seafood pizza with selasih (basil) leaves and pineapple and mozzarella.
The Knowhere Bangsar Experience
With so many restaurant bars located in Bangsar, you would not expect this place to be such an interesting haunt, not only serving very decent dishes, but also a high underrated cocktail menu. The drinks are well thought out, which are both tongue in cheek, but actually is quite lovely. What also makes this place so interesting is the art on the wall, with each piece engaged through a different local artist, really bringing together the notion of Knowhere, where everyone is accepted in this cosmic themed watering hole.
---
Knowhere Bangsar
50, Jalan Maarof,
Bangsar,
59100 Kuala Lumpur
010-220 2358
Opening Hours:
Sundays to Tuesdays, 4.00 pm to 1.00 am
Wednesdays to Saturdays, 4.00 pm to 2.00 am

| PHOTOGRAPHY BY: LILA BAKAR & KNOWHERE | WEBSITE: KNOWHERE BANGSAR |