The Spanish are famous for many things, but the one drink that stands out time after time is the Sangria. Patio bar de Tapas, a nice little hole in the wall on Weld Quay in Penang, specialise in this with a variety of different interpretations of this drink and makes a great place to have a few with your friends and unwind your day.
As you walk through the hidden small entrance of Patio, you are greeted by a very intimate bar, only to be greeted by the outdoor garden that is reminiscent of those you find in Spain. The garden is a nice leisurely catch up place, with an upper deck for private functions overlooking its very private garden area. The bar itself is designed quite close together, giving lone visitors a chance to meet and speak to friendly strangers.
Patio is the pet project of Justin Chuah and his friends, and seeks to create a bar experience that would set them apart from the other bars you would find in Penang. As one of the few places that specialises in Sangria, you can see why this place is a great meeting place for after hours' drinks and the likes. This place also offers a nice selection of cocktails as well as whiskeys, with a notable range of Balvenie whiskeys. When asked about Patio's philosophy towards their cocktails, he replied: –
"At the time my partners and I decided to open the bar, we thought that Weld Quay was the perfect location. It was situated in the old business district of Penang, and was the only colonial building we saw which had this potential, a sanctuary in the middle of the city. At Patio, we want to impart a sense of discovery and surprise to our clientele, when you walk in, you are greeted by the bar, which opens up to the courtyard on the side. Here, we let you discover things by yourself, so you can surprise yourself. There's something for every occasion, whether its fruity or refreshing." — Justin Chuah, Co-Owner of Patio bar de tapas.
The Bar
Patio offers a 4 types of sangria, which includes one made from red wine, white wine, apple cider and a special mix. In addition to that, they also carry a range of cocktail, mocktails and single malt whiskeys; catering to the wide variety and needs of their customers.
The first Sangria which was served was the Sangria Blanco, a white wine based sangria. The cocktail was light and refreshing, with sauvignon blanc, Bombay gin, berries, and fruits.
The second Sangria that was served was the Sangria Tinto, a red wine sangria, completed with a Chilean merlot and triple sec as its base. Lemons and apples are added to it, giving a nice little munch and flavour with the deep red concoction. If you prefer a heavier bodied drink, then this is the sangria for you.
The third Sangria that was served was the Sangria Especial, a drink made with Riesling, lychee and passion fruit. The fragrance of coconut is prevalent due to the Malibu complementing the sweetness from the lychee.
If you are a fan of Hendricks, you should definitely try the Hendrick's Basil Smash. In this interpretation of the classic, Patio uses Thai basil leaves, which is spicier in flavour, adding an interesting twist.
Another standout at this joint is the Strawberry Margarita, completed with tequila, triple sec, lime and sour mix. This hefty portion packs quite the punch, and is definitely for one who is seeking to have a prolonged night out.
The Mocktails
If, however, that you are a teetotaller, you could try a drink off their mocktail menu, and we highly recommend their Sunset Cooler. This drink is made with a base of Ribena, lychee and soda, a simple and sweet drink, which definitely will quench your thirst in the hot climate of Malaysia.
Another drink that had a nice sharp flavour was the Kiwi & Apple Slush. This drink has the consistency of an ice blended drink, consisting simply of apple, kiwi, mint and soda. A nice an unsurprisingly tasty drink.
The Tapas
Patio also serves a range of tapas, perfect for small eats to be enjoyed with their thematic restaurant. Not predominantly a restaurant, this bar offered up some unique twists of classic dishes.
The Wings of Red Toro were a set of grilled chicken wings, marinated in red bull and jalapeño. This dish had quite the kick and was a great accompaniment to any of their cocktails available. This was probably our favourite dish on the menu, a must try.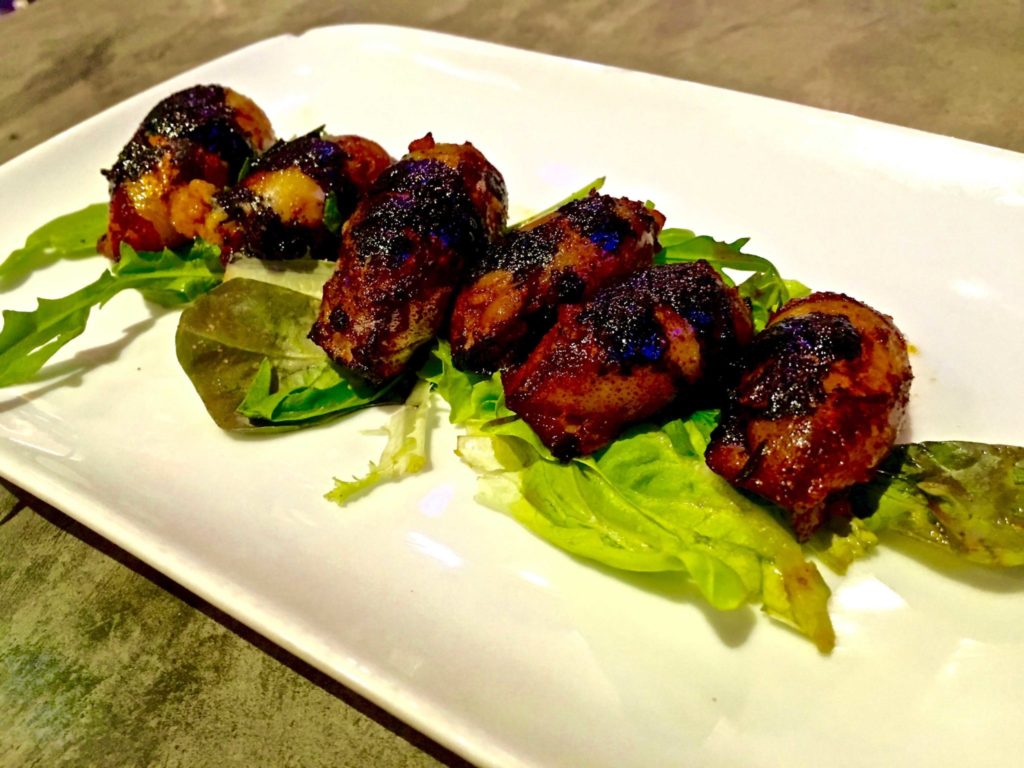 The other stand out snack was the simply named Calamares, a squid stuffed with black ink compote. This dish had a nice deep flavour from the ink and the mince meat was a nice touch.
The Patio Experience
Patio is a great place for after work drinks, and turns out to be one of the better watering holes for drinks and tapas. If you like to try out the different sangria offered, this is definitely the place to kick back where bar meets bites. When asked what experience they are trying to impart on their guests, Justin stated: –
"We want to give our patrons a sense of escape within the city, where people can feel they belong, and will come back time and time again. A comfortable place where you can relax, almost a secret within our wooden panels and walls. Our variety of Sangria, also our best seller, provides a different experience, depending on what you're looking for according to your mood, whether it be mellow and dry, sassy and grassy or something fruity, there's one for every occasion."
The next time you're in Penang, do pop by to experience their selection of sangria for yourself to have a little hole in the wall getaway from the bustle of the city.
For a complete travel experience, see our Ultimate Guide: Penang Street Food.
---
Patio bar de Tapas
49, Pengkalan Weld,
10300 George Town,
Penang.
+6012 311 0442
Opening Hours:
5.00 pm to 3.oo am

| PHOTOGRAPHY BY: PATIO BAR DE TAPAS & NICHOLAS NG  | FACEBOOK: PATIO BAR DE TAPAS |
---