As you drive down Jalan Perak you will come across a building parked in the centre of the heart of Kuala Lumpur. Fraser Place is strategically positioned off the main roads giving you the much needed quiet from the bustling city whilst maintaining a 5 minute walk from KLCC. These luxury apartments come with the splendours of a hotel combined with the easement of a luxury apartment, and this unique service is brought to you by Haftarent, formerly TrupCotel.

Haftarent
Haftarent is a one stop tenant matching website that allows you to book hotel-like serviced apartments, but offers a concierge service making it as easy as possible for young executives. Founded by Saify Akhtar and Amanda Sabri, Haftarent aims to provide tenants with contracts as short as one week to two years stay. With most rentals in Kuala Lumpur, you will find that there is normally a need for a 2.5 month deposit, and most places would also require a month's utility bills. At Haftarent, you only pay a deposit of RM399.00 (£72.00 / US$102.00) which also includes utilities and high speed internet broadband for the duration of your stay. Equipped as a fully furnished residence, all Haftarent properties also provide a weekly housekeeping routine, especially useful for working professionals who just need that little help around the house. When asked what Haftarent's philosophy to business and how they differ from other booking engines out there, they replied: –
"We look to optimise the use of unoccupied assets around Klang Valley, with the intention of bringing value to the lives of young Malaysians. TrupCotel is not a booking engine. We see ourselves as a virtual rental platform – we'd like to see an advancement in the way rentals are dealt with in Malaysia, starting with a lower barrier of entry, rental payments online and shorter lease periods. Soon, our website features would include virtual tours of apartments, and a network of exclusive tenants who will be given access to our extensive portfolio of developments." — Amanda Sabri, CEO of TrupCotel.
The Booking Process 
To sign up, you fill in a quick step form on the website detailing your needs, whether its for a one individual or sharing. You will be provided with a Tenant ID and a follow up email will direct you to an enquiry form which will assist in choosing by location, number of people and budget. You can rent an apartment from as low as RM400.00 (±£72.00 / ±USD103.00) per person per week for a 1 week stay (depending on location). For a whole apartment like Fraser Place, it would set you back at about RM1,200.00 a week if you're renting for a week, and RM900.00 if you're renting for 4 weeks, which comes up to about RM3,600.00. Rentals also decrease if you are sharing your apartment. All payments can be made online and once you bank in your deposit, you will receive a confirmation and all you need next is to just collect your keys and you're good to go. When asked what their approach to customer service is, she replied: –
"Simple, the customer is always right. We are available 24/7 for assistance, and take feedback from clients as a priority when deciding our next course of action." 
Fraser Place: Luxury Apartment Rentals in Kuala Lumpur
The room is spacious enough for 4 people, but if you feel you need more personal space, it also works as quite a roomy place for 2. The apartment comes with a living area, dining area, kitchen, two bedrooms and a bathroom equipped with relaxing rain shower and built in bathtub.
The master bedroom comes with a king sized bed, perfect for a luxurious night's sleep. The room is decently sized and is equipped with closets and a work table. The second bedroom is smaller, but comes equipped with closets and a workspace as well.
The kitchen comes fully equipped with pots and pans, including a hob and hood, refrigerator, coffee maker, toaster and complete dining utensils.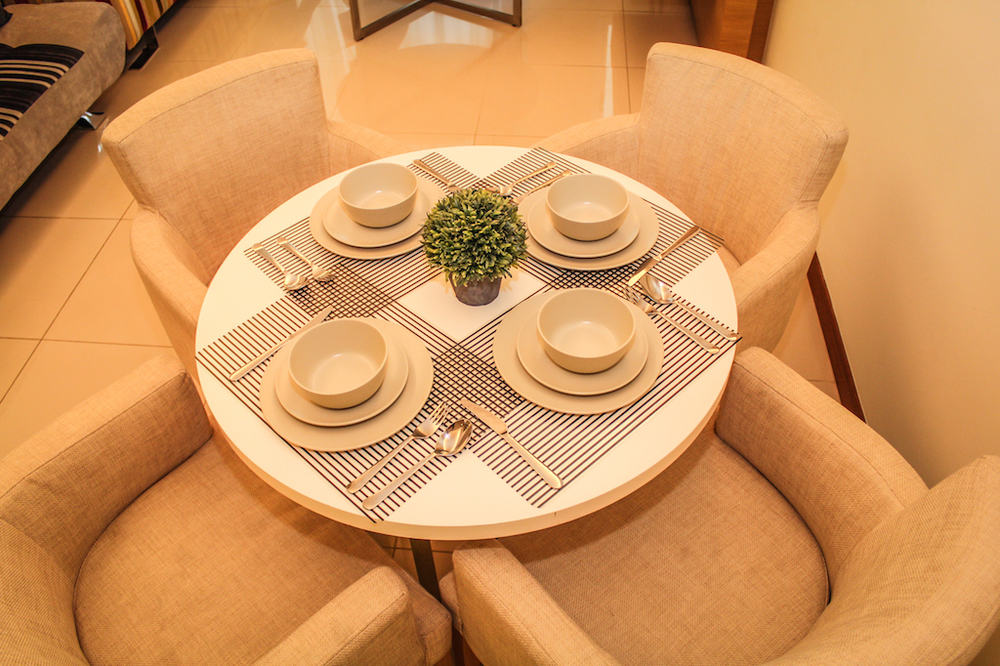 The room also comes with an ironing board, and laundry basket, all packed into closets for that ease of living. TrupCotel has also put some thought into the minor details to make your stay the more enjoyable such as providing an iPhone charger and speakers, part of your everyday items that you could possibly forget to take with you on your holidays.
Swimming Pool
The swimming pool is an infinite pool with the view of the KL skyline, with beautiful deck chairs for a nice and relaxing time. A key note about the bathroom at the swimming pool floor is that is contains a steam room, a sauna, a hot dip pool equipped with Jacuzzi and a cold dip pool. Quite the nice experience.
Facilities Floor
On the facilities floor you will also find a fully quipped 24-hour gym with all sorts of machines and weights. There is also a Yoga and Aerobic room on this floor for those that are interested. This floor also has a Games Rooms, one for Nintendo Wii, and the other for Play Station. As for your laundry, there is a Self Service Laundrette that you can handle your washing, for apartments which are not equipped with a washer and dryer.
The Dining
One of the best reasons to stay at Fraser Place is that is has some of the better restaurants in town. Skillet at 163 is famous for their simple approach to bistronomy with fine dining touches as well as Simply Green Salad with their touches of fine dining techniques. Easily some of the better restaurants in town, this is probably the best reason for you to stay at Fraser Place.
The Haftarent Experience
TrupCotel has really managed to bring something new to the digital table by bringing a concierge service, and this is especially useful for people who travel from city to city, and is looking for a decent place to live, without it eating too much into your budget. When asked who would benefit most from a service such as this, Sabri quipped: –
"Malaysians, who travel 1-2 hours a day just to get to work! Live near the office, and regain their work-life balance. Expatriates will also benefit greatly, as they will no longer need to deal with so many different parties just to find a suitable roof over their heads."
Its affordable luxury stay for pretty flexible contract periods for rentals in Kuala Lumpur. This was exemplified with a stay at Frasers Place and thanks the concierge service which was very helpful, giving such an easy and pleasant experience. TrupCotel has a host of other prime real estates such as Marc Residence, ViPod Residences, Pavilion Residences, Soho Suites, Summer Suites and 6 CapSquare. So if you're looking for a short term stay as a traveller or a longer term stay as an executive in Kuala Lumpur, look no further.
You can make your reservations with Haftarent by booking here.
You may also enter our Promo Code: HaftarentxFoodForThought for a 5% discount on your tenancy (valid for the first 20 readers only).
---
Frasers Place
Lot 163, No. 10, Jalan Perak,
50450 Kuala Lumpur.

| PHOTOGRAPHY BY: NICHOLAS NG & HAFTARENT | WEBSITE: HAFTARENT |
---