There are few restaurants in Kuala Lumpur that is as pristine when it comes to cuisine Classique, the traditional course-by-course dining experience first created by Georges Auguste Escoffier. At DC Restaurant, chef Darren Chin has taken this to the next level, crafting a menu that not only epitomise luxury but refined techniques and cuisine with this Kuheiji sake pairing.
DC Restaurant: Cuisine Classique
Cuisine Classique or Classic Cuisine is the form of fine dining that we know and recognise today, also known as Haute Cuisine. This practice was developed in the mid-19 century by Georges Auguste Escoffier, where meals are served course by course, as well as the creation of the chef brigade, a group of chefs functioning as one, ensuring dishes are served in a timely manner. This also coupled with a certain standard for impeccable service, a key element of the fine dining experience. At DC Restaurant, their attention to detail is astounding when it comes to cuisine, techniques and flavours, which is definitely one of the finer restaurants you will come across in Kuala Lumpur, with a strong team including Sous Chef Tran Thien Thanh and Restaurant Manager Mahamad Hafiz Abdullah.
Kuheiji Sake: French Techniques, Japanese Ethics
When it comes to sakes, Kuheiji is a sake producer that has applied the French approach to their sakes, down to the creation and harvesting of their own varieties of rice, with plots that are terroir-centric. The sakes itself have specific domaines which they call Domaine Kuheiji, the flagship of Kamoshibito Kuheiji Distillery. To put simply, Ginjo-shu requires at least 40% of the outer layer to be removed by milling while Daiginjo-shu requires at least 50% polishing. Ginjo and Daigonjo is made with rice, rice koji and distilled alcohol whereas Junmai Ginjo and Junmai Daiginjo is applied to sakes that is made with rice and rice koji only.
White Fungus and Skrei Pearls
Crispy white fungus in mushroom stock, fresh cheese with mixed herbs and bottarga skrei pearls
One of their more iconic signatures by now, the umami heavy white fungus has a crispy texture, with the skrei pearls adding a nice contrast.
Cured Mackerel Tartlet
Mini tartlet of cured mackerel, daikon and lime aioli
Mini tartlet which makes a nice refreshing morsel, the seaweed added a nice stringy texture.
Mushroom Arancini
Mushroom arancini and watercress sauce
A warm bite packed full of flavour, the mushroom arancini had an intense umaminess, with the watercress mellowing out the bite.
Hiramasa
Yuzu, ice plant, avocado cream, kumquat
The simple starter comprised of a lean hiramasa, also known as kingfish, which was clean on the palate, with a certain brightness from the kumquat and yuzu, with the ice plant adding some texture.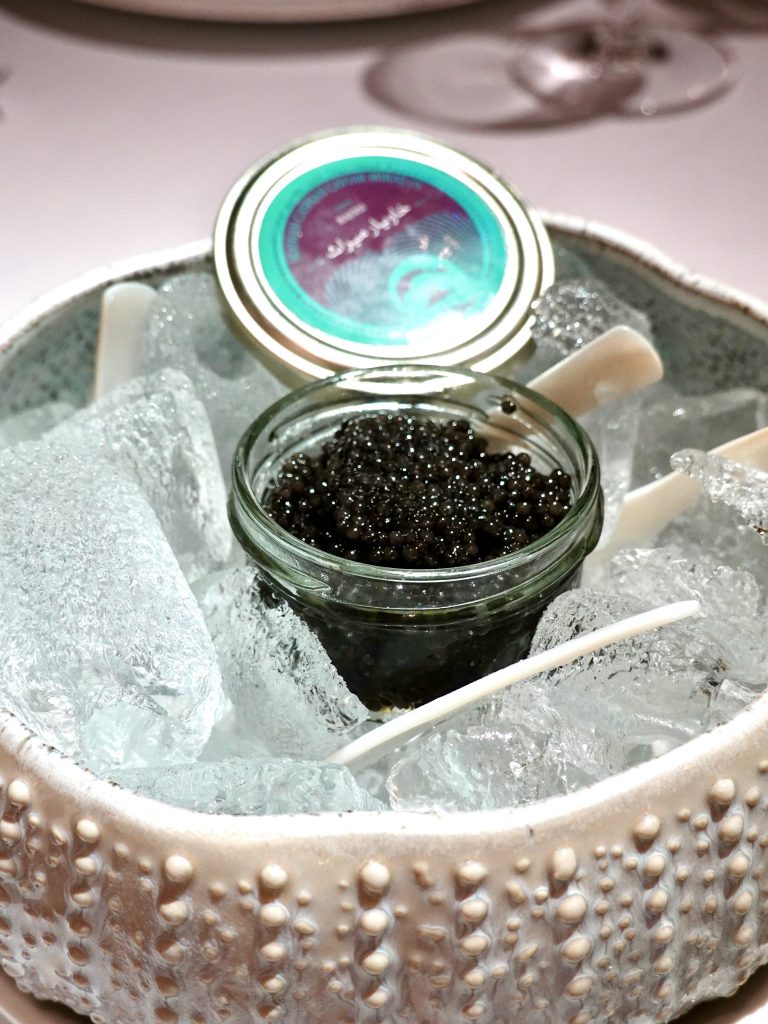 Premium Iranian Caviar Set
Pane carasao (Sardinia flat bread) and chive cream
A great selection of Iranian caviar, the beautiful pearlescent caviar comes from the Baeri sturgeon which is at least 12 years old before they are harvested. The caviar comes from the Caspian Sea which is high in minerality resulting in a more saline caviar. Served with a side of crisp Sardinian flatbread called pane carasao.
"We specially selected this premium Iranian caviar as the quality is exactly what we're looking for. They come in jars which also ensure that there is no squishing of the top layer, forming whole round pearls."
Kuheiji, Ka No Chi, Yamada Nishiki, Junmai Daiginjo 2019
Yamada Nishiki Rice, polish 40%
The Ka No Chi is known for its umami and acidity, which paired well with the richness of the caviar because of its more robust texture. Also great with oilier dishes such as fatty fish.
Blue Swimmer Crab
Charred avocado, aonori and lemon gel
An ingredient that is plucked from DC's sister project Gai by Darren Chin which specialises in Lanna cuisine, the premium quality blue swimmer crab is likely the unlikeliest of DC's repertoire. The flavours are not something you'd expect from DC, but they work well. The charred avocado added a umami creaminess to the briny sweet crab, with the dollops of lemon gel adding some acidity.
Kuheiji, Kurodasho, Yamada Nishiki, Junmai Daiginjo 2019
Yamada Nishiki Rice, polish 50%
The sake was quite refined, with an almost fruity floral disposition on the palate, which went well with the aicidity from the lemon gel and balanced well with the creaminess of the charred avocado.
Scottish Diver Scallop
Corn velouté, haricot verts and clam jus
This dish was extremely delicious, which was no simple feat. The large diver scallop was thick and sweet, seared perfectly, paired with the sweetness of the corn velouté. The haricot verts added a nice green texture and flavour, while the clam jus pulled the dish together.
Shiitake Dashi
Charred Hokkaido daikon, parsnip purée and black truffle
The flavourful thick cut daikon sits on a parsnip purée, which is then soaked in a dashi stock, reminiscent of an elevated oden. The dish was a nice meeting of a consommé and a crème.
Kuheiji, Voyage, Yamadanishiki, Junmai Ginjo 2019
Yamada Nishiki Rice, polish 55%
I imagine this sake with a superb French cheese platter, or an assortment of two or three styles (soft dough with floury crust, cooked pressed dough, cow, goat cheese, young or mature) to bring a fresh feeling of neutrality, lovely aromatic whispers, which will surely come, whispering readiness for what one might call, an "almost" perfect harmony.
Echo Of The Sea
DC's signature cold cappellini, Hokkaido bafun uni, Alaskan king crab, cured amaebi and a savoury seafood sabayon
When it comes to DC's cuisine, there are few dishes that are more astonishing as the signature Echo Of The Sea. This beautiful dish comprises of perfectly cooked and delicate cold cappellini, with Alaskan king crab for sweetness, uni for briny umami and cured amaebi for texture. Next time you have this dish slightly tap your spoon on the side of the bowl for that echo, it will all make sense.
Kuheiji, Human, Yamadanishiki, Junmai Daiginjo 2019
Yamada Nishiki Rice, polish 45%
The umami sweetness from the Human is considered the richest of the Kuheiji Collection series, which leaves a deliberate umami sweetness on the palate, with a complex structure, with a subtle acidity, making this sake perfect for the cold cappellini.
Silverhill Irish Duck Supreme
Herb crust, pommes anna, eggplant, baby carrot and cumin yogurt
A beautifully cooked duck that has been aged for 7 days, the tension on the skin was just right. What really stood out with this dish was the baby carrot which has been speckled with crispy buckwheat adding an interesting texture, which would have been a great rendition of a vegetarian course on its own.
Alaskan King Crab (First Preparation)
Smoked cauliflower cream, fried capers, umami sabayon and Périgord black truffle
The Alaskan king crab was presented in two ways, a dry and a wet. The first was presented with smoked cauliflower cream, adding an interesting aroma to the dish. The sweetness of the crab married well with the smoked cauliflower cream, while the capers added texture.
Alaskan King Crab (Second Preparation)
Confit, crispy buckwheat, tomato water and concentrated pizzutello tomatoes
The second presentation of the king crab was delicate with an interesting texture, with the fragrant sweetness from the tomatoes and crispy texture from the buckwheat. The ice plant added  nice crisp and clean texture to the dish.
Miyazaki Japanese A5 Wagyu Tenderloin
Watercress, Jerusalem artichoke, chitose vegetables and sauce perigueux a la royale
The tenderloin was perfectly cooked, seared right on the outside but tender and medium rare on the inside. the dish was also accompanied with an assortment of chitose vegetables, bringing more greenery to the plate. This dish is an absolutely deserving as an add on.
Chilean Seabass
Buttermilk espuma, melange of chitose vegetables, parsnips, apple and mussel jus
A great choice for a protein, the seabass is cooked well, firm and not overdone. Flavours of spiciness from the parsnip, sweetness from apple and umami laden mussel jus makes this dish much more interesting that you would imagine, surprising the palate with a contrast of flavours.
Kuheiji, Sauvage, Omachi, Junmai Daiginjo 2019
Omachi Rice, polish 50%
This variety of wild rice used is quite unique, being an ancient grain itself that is believed to be over 100 years old called ni hon kusa and the method of extraction leaves the sake with more koji flavours, being able to be enjoyed with delicate fish, fatty fish and even beef.
Rhum & Raisin
Light rhum mousse, soft chocolate sponge, cacao brittle, dark raisin purée, boozy rhum and raisin ice cream
The dessert was the heavier of the two, with pronounced flavours of rhum permeating through the dish. The chocolate textures add an interesting dimension, with the ice cream pulling the dish together.
Milk & Honey
Wild flower honey from Mae Rim province Chiang Mai, parfait glace, apple cider gel, caramel streusel and milk ice-cream
The lighter of the two desserts, this dish consisted of 2 desserts itself. The parfait glace became the main vessel of the first one, with apple cider gel adding a certain light funk, while the caramel streusel added texture and sweetness. The second dessert was simple with the milk ice cream and honeycomb matched well.
Le Fromage
5 types of A.O.P cheeses, fresh honeycomb and wild flower nectar collected from the hills of Mae-rim Province, Chiang Mai, Thailand
Another signature of DC Restaurant, the DC Cheese Trolley is one of the most complicated which is available in Malaysia, with a selection of over 30 uncommon and rare cheeses. We suggest the brebis tête de moine, a dry and almost sawdust shaving textured sheep's cheese and the truffle gouda.
DC Restaurant x Kuheiji Sake Experience
For the uninitiated, wine pairings with French cuisine is almost a given, but to match French techniques, progressive touches and Japanese elegance is something that is very hard to accomplish, but this menu really highlighted that that feat is possible. From the subtle flavours of the Kuheiji sakes to the great quality of local and luxurious ingredients, this menu hits the mark, making it one of DC Restaurant's most interesting yet. We can't wait to see where this culinary ship of flavours sails towards.
For our previous reviews, see DC Restaurant.
---
DC Restaurant
44, Persiaran Zaaba,
Taman Tun Dr Ismail,
60000 Kuala Lumpur.
+603 7731 0502
Opening Hours:
7.00 pm till late
| PHOTOGRAPHY BY: NICHOLAS NG | WEBSITE: DC RESTAURANT |