As Eurocentric Skillet at 163 celebrates their new spring and summer menu, the restaurant has created a special menu with dishes that can only be described as art meet flavour. The eatery has teamed with non-other than Perrier-Jouët, known for its floral motives and exquisite champagne, especially the blazon rosé.
Skillet at 163 x Perrier Jouët: Modern European Spring / Summer Degustation
This menu is celebrated with the ringing in of the spring and summer, including ingredients and plates that reflect that level of finesse and elevation. When it comes to cuisine, Skillet has evolved year on year, and this menu is no different, with plates that pack a flavourful punch that please both the eyes and palate. One thing that may fly under the radar is the exquisite service by front of house, Shaun Ong, who takes the time to slowly explain each dish as it arrives, so do seek him out.
"Our latest menu is inspired by the seasonality of ingredients, from the flowers to the blooming of the seasons. We were inspired mostly from nostalgia, memories of my days during spring and summer when I used to live in the United Kingdom. As Covid has affected our lives, we wanted take this as an opportunity to celebrate more often, to celebrate life. When we think of celebration the first thing that comes to mind is none other than champagne. Perrier-Jouët's champagne with its hints of floral notes match perfectly with this round of creation." — Raymond Tham, Executive Chef of Skillet 163.


"Spring and summer are the season of flowers and blossoming, which is the perfect allusion to the floral style of Perrier-Jouët. We found that the fresh and refined cuisine of Raymond evokes the Perrier-Jouët style, with versatile flavours throughout the dishes are a great opportunity to explore the depth of Perrier-Jouët cuvées." — Jean-Baptiste Gouvril, Brand Ambassador of Perrier-Jouët.
Amuse Bouche
Ratatouille, mussel cannoli, longan bread, sourdough, truffle butter by Karls
Perrier-Jouët Grand Brut NV
The amuse bouche came in a preparation of 4 components, sourdough and longan bread served with truffle and mushroom butter and 2 amuse which were florets of ratatouille, with concentrated flavours of capsicum, zucchini and tomato, while the mussel cannoli had a deep umami. These dishes were a great way to start the meal, signifying the changing of the seasons. These starters paired well with the Perrier-Jouët Brut NV, a perfectly floral champagne which is a blend of over 50 crus.
Miyagi Oyster
Kendondong granita, samphire, shallots
The Miyagi oysyer was quite sizable, but had a subtle minerality and brininess, that could easily leaned towards being overtly fishy, but the sweet and zesty flavour from the kedondong granita elevated this simple but elegant dish to something that was extremely refreshing.
"The oyster and Perrier-Jouët Grand brut reveal a nice minerality for both the drink and the dish. You can also say this reminds me of my younger days. Coming from Bretagne, pairing oyster and champagne is a must that we do at every New Year's Eve." — Jean-Baptiste Gouvril, Brand Ambassador of Perrier-Jouët.
Asparagus
Duck bacon, polenta, quinoa, uni, ikura, smoked koji
Sybille Kuntz Spätlese Riesling 2011
The asparagus dish was one served with such refined flavours, with its duck bacon adding umami crumbs, and deep-fried crispy quinoa adding a clean crisp texture, while dollops of smoked koji cream rounded the dish. The uni added a briny umami while the koji cream added a layer of nutty umaminess.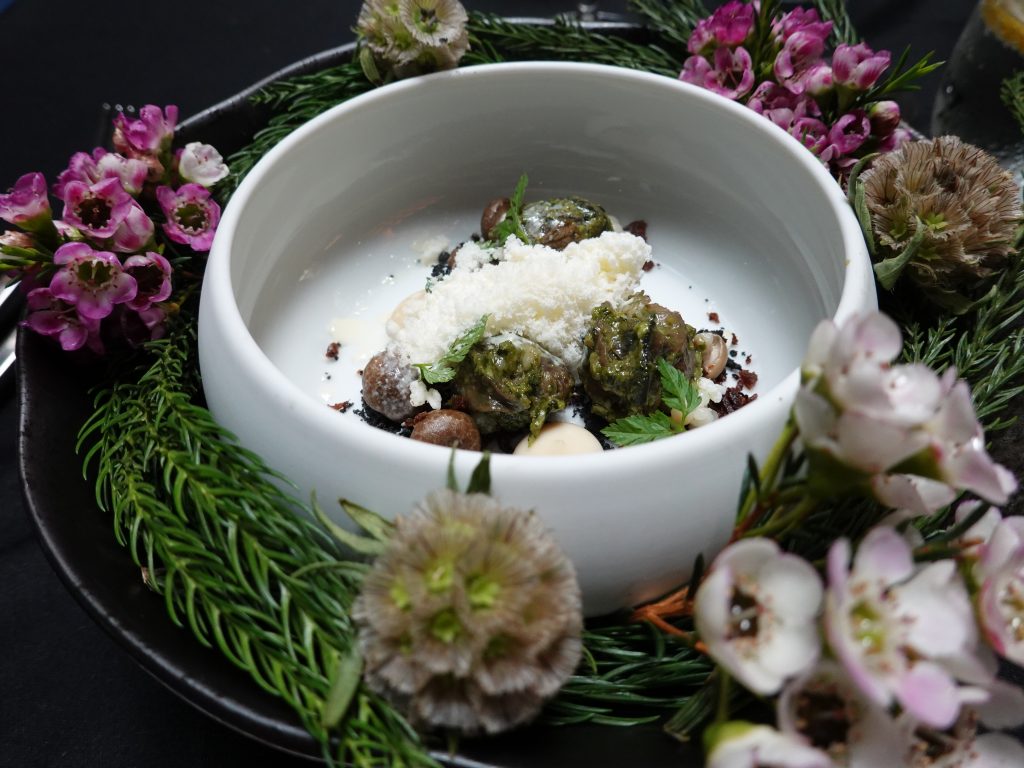 Escargot
Kulim, mushroom, parmesan snow, yoghurt caviar
Another stunning dish evoking the season of winter, the take on the escargot bourguignon, the parsley cooked escargot were sizeable and were springy to the bite, with beautifully cut mushroom caps and parmesan snow bringing the dish together. The dish included small spheres of yoghurt caviar to emulate snail eggs.
"We wanted to evoke the sense of a snail garden with this dish, and as you can see, the spheres you see are to represent the white snail caviar, which we have made with yoghurt." — Raymond Tham, Executive Chef of Skillet 163.

Sunflower
Foie gras, pastry skin, madras curry sea salt, brioche, longan compote, longan jus
Perrier-Jouët Blason Rosé NV
Another stunningly beautiful dish, the sunflower petal strands were made from pastry skin, sat on top of pan seared foie gras, with the longan compote adding a sweet umami flavour that went well with the brioche. An excellent use of longan as a savoury component.
"This dish reminded me of my days living in England, where my favourite season was spring, where you can see the flowers bloom. I was inspired by Van Gogh's painting Sunflowers, which he painted while he lived in Paris." — Raymond Tham, Executive Chef of Skillet 163.
"Foie gras and Perrier-Jouët Rosé is a more daring pairing that can be done thanks to the rich & complex flavours coming from a higher share of Pinot Noir." — Jean-Baptiste Gouvril, Brand Ambassador of Perrier-Jouët.

Lobster
Dauphinoise, Cameron Highlands kale, crustacean aioli, truffle
Perrier-Jouët Blason Rosé NV
The lobster was cooked well, springy to the bite and was served as a twist on a lobster thermidor.
Japanese Omi Beef Striploin A5
Sweetbread, pomme de terre, truffles
Château de Fonbel St. Emilion Grand Cru 2012
A very delicious and generous cut of the legendary Omi beef, the cut was charred to perfection on the outside, but tender and medium-rare on the inside. Each bite was succulent and crisp at the same time, earning this cut as one of the favourites. The sweetbread made form the thymus gland of the cow, is cased in a crispy coating sat on top pomme de terre. The portions of beef were more than generous, a very successful dish.
Mocha
Macadamia, Belgium chocolate
Martel Cordon Bleu
As chef Raymond is quite known for this desserts, this one did not disappoint. A mocha flavoured cake with macadamia and shards of Belgium chocolate, a beautiful, sweet ending to with a glass of Martel Cordon Bleu.
Petit Four
Longan pain perdu
The last bite of the night, the pain perdu was perfect in every way, caramelised on the outer layer while the sweetness of the longan was balanced well in the medium density final bite.
The Skillet x Perrier-Jouët Spring / Summer Paring
For those looking to celebrate your weekend, this menu is the perfect way to welcome spring, with its intentional flavours paired with none other than the floral notes of Perrier-Jouët, the pairing is exclusive to the 11th April 2021, so book your seats as spaces are limited due to restrictions.
For our previous reviews, see Skillet and Perrier-Jouët.
---
Skillet
Fraser Place,
Lot 163, 10, Jalan Perak,
50450 Kuala Lumpur.
+603 2181 2426
Opening Hours:
10.30 am to 10.00 pm
| PHOTOGRAPHY BY: NICHOLAS NG  | WEBSITE: SKILLET |