Tucked within the recesses of Persiaran Madge is a hidden oasis within the bustling city of Kuala Lumpur is the perfect romantic getaway that is Villa Samadhi. Colloquially known as one of KL's best kept secrets, this boutique hotel offers a one of a kind experience for those looking for a private sanctuary that is a walk away from the KL city centre and all it has to offer. But more importantly, Villa Samadhi caters to those that want that luxurious service with that much needed personal space in its natural setting.
The architecture of Villa Samadhi is reminiscent of a villa in the Malay countryside with its wooden awnings surrounded by slate and stone. The entrance faces a stone Buddha statue, instantly reminding you that this place is one that emphasises on a relaxing and calming experience, where you are instantly greeted with the warmth that is so famous of Asian cultures. The entire structure of the villa is paved with greenery and lanterns lining the walkway, which opens up to its gorgeous pool which is accessible from the lower level rooms.
Villa Samadhi is owned by the Samadhi Group, hoteliers and restaurateurs who have built this place to deliver an experience like no other. Some other luxury villas which they own including Japamala Resorts in Tioman, Villa Samadhi in Singapore as well as Kandoola Villa in in Sri Lanka. This is in addition to their restaurants Tamarind Hill, Tamarind Springs, Neo Tamarind as well as Mandi Mandi. Samadhi Villa is fashioned like an island getaway in the middle of the city, and when asked what influenced the philosophy and design behind it, the resident manager stated: –
Villa Samadhi was created as an intimate urban retreat in the heart of Kuala Lumpur. A residence of this calibre is definitely one-of-a-kind in Kuala Lumpur, it is the city's only boutique hotel. It is inspired by traditional Malay villages (kampung) houses, bedecked with prevalent use of salvaged timber, polished concrete and bamboo, where the interior is a collage of natural elements with strong tones of earth and charcoal. Villa Samadhi is intended as 'the gateway to a dream state' for all who visit. — Ewan Taylor, Resident Manager of Villa Samadhi.
Villa Samadhi Rooms
This boutique hotel seeks to provide an experience, one that is rare in the heart of Kuala Lumpur, with each room being unique in design and layout, still adhering to its rustic and wooden fixtures. The nature centric use of stonework and wooden carvings exudes class in the perfect setting. The 5 types of room they cater for, which are the Crib, Luxe Crib, Sarang, Luxe Sarang and the Loft, each individualistic and have different amenities, some with private kitchens and some with plunge pools.
Crib
There are 2 Crib rooms, equipped with a high raised king sized bed, a daybed, and a bathroom.
Luxe Crib
There are 9 Luxe Crib rooms, equipped with a high raised king sized bed, a balcony, a daybed, and a private bathroom with a plunge pool.
Sarang
There are 5 Sarang rooms, equipped with a high raised king sized bed, a balcony, a daybed, and a private bathroom with a plunge pool, and a functioning kitchen.
Luxe Sarang
There are 4 Luxe Sarang rooms, equipped with a high raised king sized bed, a balcony, a daybed, and a private bathroom with a plunge pool, and a private garden patio with direct access to the lagoon pool from the room.
Loft
There is only one Loft room, an attic bedroom, equipped with a high raised king sized bed, a balcony, a daybed, and a private bathroom with a large dipping pool with a view facing the Petronas Twin Towers, the perfect honeymoon suite.
---
Review: The Luxe Crib
The Luxe Crib opens up into a spacious bedroom with all the comforts of its wooden ornaments and design. The room connects to a spacious balcony and a bathroom which is accessible from the balcony itself. The air conditioned rooms gives you both the pleasure of being outside and inside at the same time in a most relaxing setting.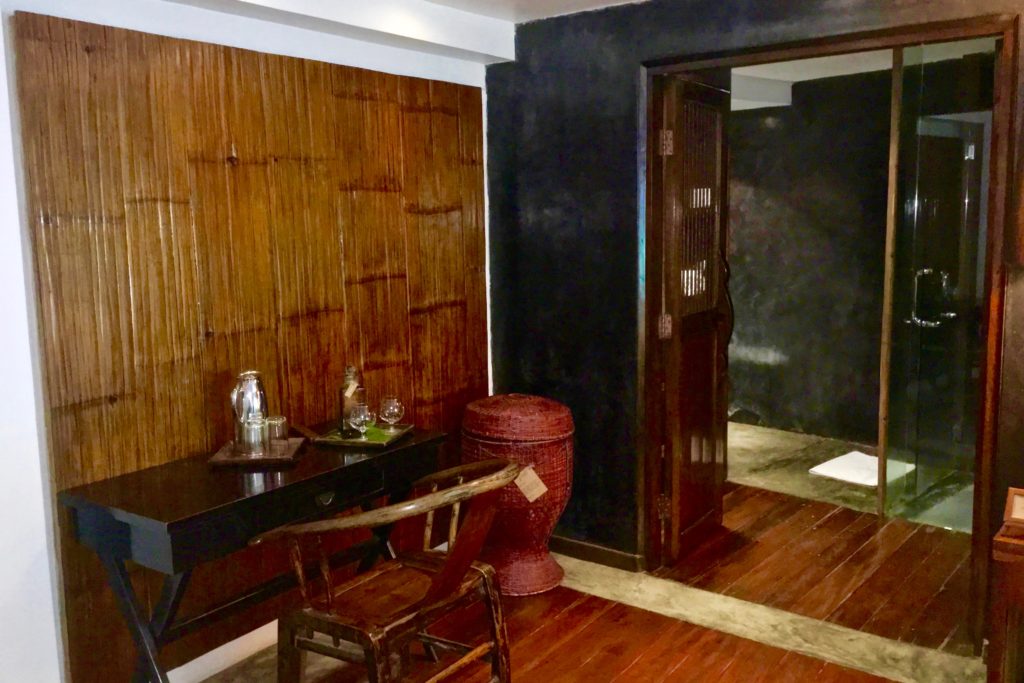 The balcony is spacious and equipped with a large daybed which is perfect for relaxing or some bedside reading. The balcony faces the lagoon pool with a  great view overlooking the entire establishment, complete with a nice natural and fresh breeze from the open-air layout.
The bathroom is ornate with wooden and slate fixtures, complete with a large rain shower. The plunge pool that doubles as a Jacuzzi is sizeable for a relaxing dip, complete with bath salts to sooth your worried muscles. On one side of the plunge pool, you are able to directly access the balcony, perfect for a dip and dive if you fancy.
The room also comes with complementary welcome drinks in the form of a carafe of brandy, perfect for unwinding for the start of a relaxing holiday.
---
Lagoon Pool
The lagoon pool is a large asymmetrical pool accessible by rooms on the lower floor. The pool is perfect for those looking to have a dip about in a quiet and serene setting. Cabanas filled with daybeds line the sides of the pool, which makes excellent spots for sun tanning, light reading or just to be enjoyed for the perfect couple experience.
Lagoon Bar (Bumbung Bar)
The bar (formerly situated on the rooftop) is situated beside the lagoon pool and Mandi Mandi Restaurant offers a complementary happy hour from 6.30 pm to 7.30 pm, where cocktails and canapes are served, which is perfect for pre-dinner drinks in the relaxing environment. Do try their signature Villa Samadhi Gin and Tonic.
Mandi Mandi Restaurant by Villa Samadhi
The in-house restaurant, Mandi Mandi by Villa Samadhi, serves refined contemporary Malay and Thai cuisine, set beside the lagoon pool, with the choice of dining in the air conditioned restaurant, or if you prefer, in the outdoor beside the lagoon. The restaurant also serves the room service kitchen, which is exclusive for residents only.
Perfect Romantic Getaway
One of the best elements that Villa Samadhi seem to offer is that the villas are only available for persons above the age of 12. This is to guarantee a romantic setting for people looking for some peace and relaxation. Another reason is because most of the design of the place is not suited for children, with ledges and stairs peppered throughout the hotel. This is also perfect for newlyweds and couples on their honeymoon looking for some personal time in the natural setting.
The Villa Samadhi Experience
It is uncommon to find boutique hotels that can deliver these types of experience, especially in the heart of the Kuala Lumpur city centre, an experience of an island holiday, all within walking distance of what a city has to offer. The perfect couple and honeymoon find, Villa Samadhi has managed to not only create this experience, but has also delivered in terms of service and hospitality. When asked what their philosophy is towards customer experience, the explained: –
Best described as 'Kuala Lumpur's ultimate treat to nest in' we aim to deliver the ultimate gateway nestled in the city matched with warm and comforting Asian hospitality.
For the perfect cityscape serene and back to nature couple experience, look no further.
For a choice of a Thai and Burmese restaurant, please see our review of Tamarind Hill.
For a choice of an Indochinese restaurant, please see our review of Tamarind Springs.
---
Villa Samadhi
Persiaran Madge,
55000 Kuala Lumpur.
+603 2143 2300

| PHOTOGRAPHY BY: NICHOLAS NG & SAMADHI RESORTS | WEBSITE: VILLA SAMADHI |
---