What exciting times for the culinary scene of Malaysia, with the completion of the first ever Michelin Guide featuring gastronomic cities Kuala Lumpur and Penang, with 4 Michelin Stars awarded, 32 Bib Gourmand and 61 Michelin Selected eateries, a total of 97 restaurants ranging from street food to fine dining establishments with 3 special awards. Here's a breakdown and some thoughts.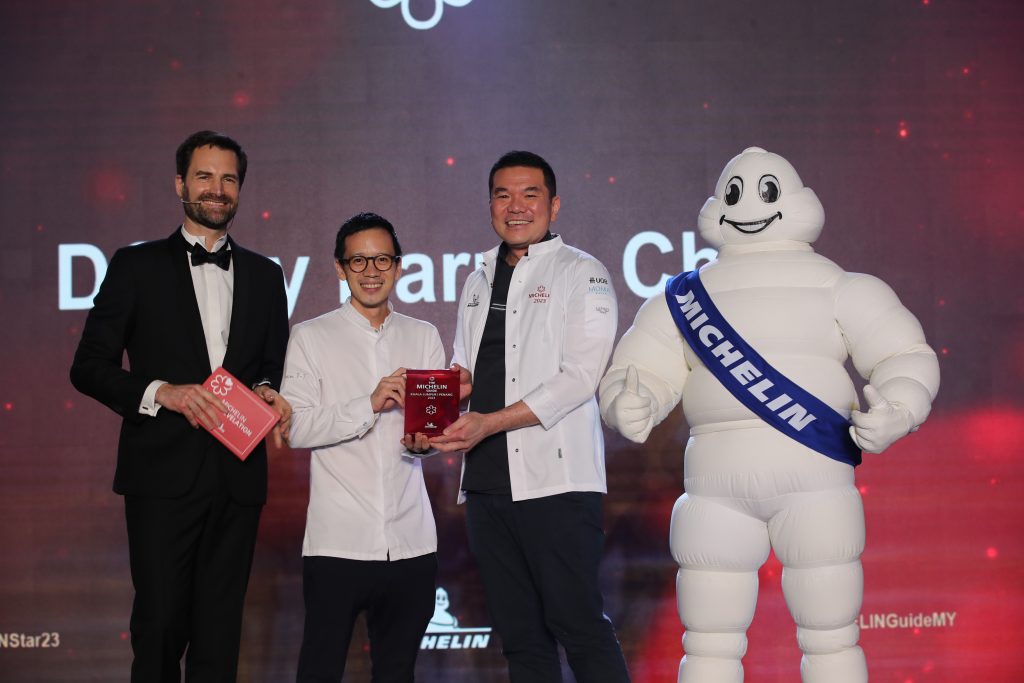 Michelin Stars
This year saw four stars awarded, DC by Darren Chin and Dewakan in Kuala Lumpur, and Au Jardin and Auntie Gaik Lean's Old School Eatery in Penang taking the top spot. When it comes to fine dining in Kuala Lumpur, no one will argue against both Darren Chin and Darren Teoh, the masters of matured cooking, as they are easily considered the pinnacle in fine dining in Kuala Lumpur for their spotless cuisine and approach to dining experience. As for Au Jardin in Penang, it is known as one of the most well executed restaurants headed by Kim Hock Su, one of the chefs spearheading the fine culinary scene on the island. Then comes the wildcard of the list, Auntie Gaik Lean's Old School Eatery, a restaurant that is not a fine dining establishment, but traditional Peranakan fare, slightly mirroring the status of Raan Jay Fai in Bangkok. This restaurant will boom over the next year.
Bib Gourmand
The inaugural Bib Gourmand list saw 15 eateries from Kuala Lumpur and 17 from Penang, with some favourites such as Aliyaa, Dancing Fish, Lai Fong Lala Noodles and Wong Mei Kee, taking abit of every culture Malaysia has to offer. One of the more interesting restaurants on the list is Sao Nam, a local favourite that has been around for a very long time, is consistently great, and is Vietnamese. In Penang local legends featured are Green House Prawn Mee & Loh Mee, Moh Teng Pheow and Tek Sen, ranging from cheap eats to family meals. Elevated Communal Table by Gen, one of the best modern Malaysian restaurants in Penang, also gets a Bib Gourmand. What surprised us was that there were so few char kway teow places getting a bib.
Michelin Selected
The Michelin Selected restaurants are restaurants that cook with a certain quality in cuisine and ingredients, so much so that they deserve a mention which will be published in the books and on the app and website. Basically, the Michelin Select can be fine dining restaurants to street food, which will be sorted into Stars and Bibs when the achieve an award. So many great restaurants are in this category. Some restaurants that deserve to receive at least a mention include Chocha, ShhhBuuuLeee and the impossible to book Atelier Binchotan, so who knows, they might draw the attention next year.
Michelin Special Awards
This year saw 3 special personal awards, with Leanne Lim from Dewakan, Mahamad Hafiz Bin Abdullah from DC by Darren Chin and Lim Yan You from Au Jardin, all three from restaurants which also earned a Star this year.
Klang Valley Representation
The way Michelin works is actually by cities, and not a country as a whole, meaning for most Malaysians who see the Klang Valley as "Kuala Lumpur" when spoken in reference, will usually include the Greater Klang Valley which includes large parts of Selangor. Hopefully they will include Surrounding Cities like Bangkok next year.
A Request For More Diversity
Notably missing from the list are the more Malay street food eateries. With many famous nasi lemak stalls that is deserving of this title, we hope to see more diversity in local cuisine receive Bib Gourmands next year. We hope to see an increase if attention to cuisine quality, narration done well, and not forsaking flavour for narrative. For the culinarist, what a great time to be in Malaysia.
Special appreciation goes out to CF Capital for making it possible for the Michelin Guide to be in Malaysia.
For Michelin Guide Malaysia related, see Michelin Guide Malaysia.
For the complete list of awards, see below.
KUALA LUMPUR
One Michelin Star
DC by Darren Chin (French Contemporary)
Dewakan (Malaysian Contemporary)
Michelin Bib Gourmand
Ah Hei Bak Kut The (Malaysian)
Aliyaa (Sri Lankan)
Anak Baba (Malaysian & Peranakan)
Congkak (Bukit Bintang) (Malaysian)
Dancing Fish (Malaysian & Indian)
De. Wan 1958 (Malaysian)
Hai Kah Lang (Seafood)
Heun Kee Claypot Chicken Rice (Pudu) (Cantonese)
Hing Kee Bakuteh (Jalan Kepong) (Malaysian)
Lai Fong Lala Noodles (Noodles)
Nam Heong Chicken Rice (Malaysian)
|Nasi Ayam Hainan Chee Meng (Jalan Kelang Lama) (Malaysian)
Restoran Pik Wah (Cantonese)
Sao Nam (Vietnamese)
Wong Mei Kee    (Street Food)
Michelin Selected
Akâr (Malaysian)
Anjo (European Contemporary)
Beta (Malaysian Contemporary)
Bref by Darren Chin (French Contemporary)
Cava (Spanish)
Cilantro (French Contemporary)
Dominic (European Contemporary)
Eat and Cook (Malaysian Contemporary)
Elegant Inn (Cantonese)
Ember (Asian Contemporary)
Flour (Innovative)
Gai (Thai)
Hide (Innovative)
Kayra (Indian)
La Suisse (European)
Li Yen (Cantonese)
Limapulo (Peranakan)
Marble 8 (Steakhouse)
Nadodi (Innovative)
Open House (Malaysian)
Passage Thru India (Indian)
Playte (European Contemporary)
Qureshi (Indian)
Skillet (European Contemporary)
Soleil (European Contemporary)
Sri Nirwana Maju (Indian)
Sushi Kazu (Sushi)
Sushi Ori (Sushi)
Sushi Taka (Sushi)
Tamarind Hill (Thai-Burmese)
The Brasserie (French Contemporary)
Ushi (Japanese)
Vantador (Steakhouse)
Yun House (Cantonese)
PENANG
One Michelin Star
Au Jardin (European Contemporary)
Auntie Gaik Lean's Old School Eatery (Peranakan)
Michelin Bib Gourmand
Bridge Street Prawn Noodle (Noodles)
Communal Table by Gēn (Malaysian)
Duck Blood Curry Mee (Street Food)
Green House Prawn Mee & Loh Mee (Street Food)
Ivy's Nyonya Cuisine (Peranakan)
Ming Qing Charcoal Duck Egg Char Koay Teow (Noodles)
Moh Teng Pheow Nyonya Koay (Small Eats)
Neighbourwood (European Contemporary)
Penang Road Famous Laksa (Street Food)
Rasa Rasa (Peranakan)
Sardaarji (Indian)
Taman Bukit Curry Mee (Street Food)
Teksen (Cantonese)
Thara (Thai)
Theeni Pandarams (Indian)
Tho Yuen (Cantonese)
Wan Dao Tou Assam Laksa (Malaysian)

Michelin Selected
Air Itam Sister Curry Mee (Street Food)
Ali Nasi Lemak Daun Pisang (Street Food)
Bali Hai Seafood Market (Seafood)
Bao Teck Tea House (Dim Sum)
Bee See Heong (Malaysian)
Bibik's Kitchen (Peranakan)
Bite N Eat Dindigul Biriyani (Indian)
BM Yam Rice (Teochew)
Chao Xuan (Teochew)
Curios-City (Innovative)
Fatty Loh Chicken Rice (Street Food)
Feringgi Grill (European Contemporary)
Flower Mulan (Peranakan)
Gēn (Innovative)
Goh Thew Chik Hainan Chicken Rice (Street Food)
Michelin Special Awards
Michelin Sommelier Award: Mahamad Hafiz Bin Abdullah, DC. by Darren CHin
Michelin Service Award: Leanne Lim, Dewakan
Michelin Young Chef Award: Lim Yan You, Au Jardin
| PHOTOGRAPHY: MICHELIN GUIDE | WEBSITE: MICHELIN GUIDE MALAYSIA |