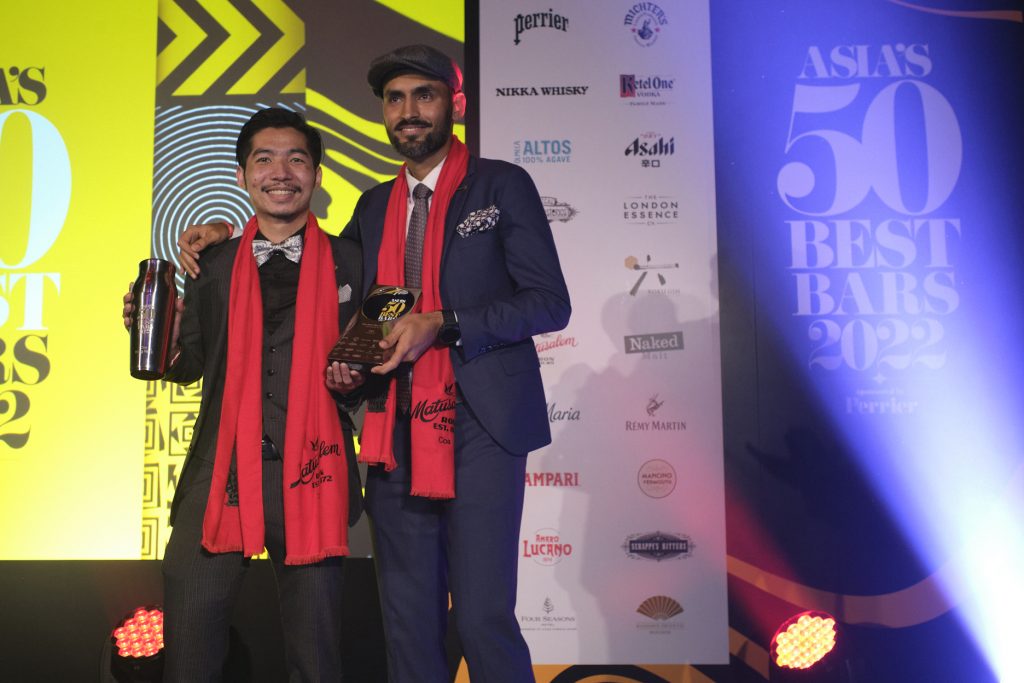 The recent Asia's 50 Best Bars 2022 saw something quite spectacular, agave-centric bar COA from Hong Kong winning for the second year consecutively. We speak to Jay Khan about this second win and also to find out a bit about newly opened COA Shanghai.
COA Hong Kong: Best Bar in Asia 2022
COA is an independently owned bar by Hong Kong national Jay Khan leading the bar scene with its agave focus cocktails. Opened in 2017, the bar takes its name from the harvesting tool used in Mexico, and is inspired by his many trips to Mexico. The cocktail menu of the bar is inspired by the flavours of Mexico, with the use of 10% agave tequila, mezcal amongst other agave spirits. Some accolade that COA and Jay Khan has collected over the years with the 50 best bars include No. 1 Asia's 50 Best Bars 2021, No. 8 World's 50 Best Bars 2020 (Highest Climber), No. 3 Asia's 50 Best Bar 2020, No. 49 World's 50 Best Bars 2019 and No. 12 Asia's 50 Best Bars 2019 (Highest New Entry).
Congratulations on your second win. Can you tell us what this second win means to you?
We still feel emotional when we think about it, as it's one of the best things that has ever happened to us. To be acknowledged by your own industry peers for something you have done, we are really proud and grateful.
What did you think you did differently to secure this spot again?
Our approach has always been the same. We have a clear objective and that is to ensure our guest are felt at home when visit us at COA. This is something we always remind our team everyday during our briefing.
What's your favourite agave spirit and why?
This is a tough one. There are too many I like. I love ensamble mezcals. Ensamble mezcals are a combination of two or more agave species distilled together in a single batch. The blend of agaves can create really interesting flavours.
Tell us something about COA that people might not know.
The real coa which is embedded into the wall of our bar is actually from Los Javis Palenque in Santiago Matatlan, it is also the very first mezcal Palenque I visited. And the tool was a gift from Javier Mateo, the current master distiller. He is also a good friend of mine. The first person I meet whenever I go back to Oaxaca 
Tell us a bit about Mezcal Mission…
Mezcal Mission is an initiative I co-founded with Andrew Davis. The idea was to spread agave love and raise money for charity. 100% money raised goes to local charities we work with. We do this just so we can do what we love and able to help people in need through curated Mezcal and Tequila tasting.
Tell us a bit about COA Shanghai.
COA Shanghai is in a Three-story space renovated from an old house. The first floor upon entering the venue is the main bar area called "La Cantina" ; a casual and lively place where all the cocktails are made. 200+ bottles of agave spirits are displayed on a Mayan pyramid shaped back bar. Second floor is called "El Salon". A quieter and comfortable lounge area that can also host bigger groups. At the end of the space you can access a small balcony for a casual get together and catch a breath of fresh air. Last but not least an agave tasting room in the attic of the building (third floor), which is called "El Ático".An intimate room with a communal table and a mini pyramid backbar replicating the same aura of the main bar. Here guest can embark with one of the bartenders as a guide on a journey towards Mexican spirits.
| PHOTOGRAPHY: JAY KHAN & COA HONG KONG | WEBSITE: COA HONG KONG |