The Cameron Highlands is a popular summer retreat in Malaysia, drawing locals and visitors alike with its substantially cooler climate. It has quite a number of different attractions to visit, which means you'll definitely find something that aligns with your interests. For instance, there are countless hiking trails for nature lovers to explore, as well as a memorabilia museum that's perfect for history buffs. If you're more of a foodie, though, you're in for a real treat, as there's no shortage of phenomenal dining options in the Cameron Highlands. Curious? Book a Cameron Highlands tour package today so you can eat your way through our list of tried and tested establishments.
For an Indulgent Breakfast: The Dining Room
Start your day right with a decadent breakfast buffet at The Dining Room, a restaurant that's connected to a historic five-star plantation resort. Dine on fluffy pancakes, crunchy waffles, fresh fruit, cooked-to-order free-range eggs, and freshly baked bread and pastries. On a sunny day, you can sip on a cup of coffee or tea while viewing the lush greenery outside. On a foggy cold day, though, a fresh hot bowl of noodles might just do the trick.
If you prefer a heavier breakfast, try a proper English fry-up at The Smokehouse Restaurant. This homey lodge in the woods serves a Traditional English Breakfast, which is a hefty plate that consists of back bacon, sausage, a serving of baked beans, fried mushroom, fried tomato, and two eggs that are prepared just the way you like them.
For Light Elevenses: BOH Tea Centre
No idea what elevenses is? This short snack break gets its name from the fact that it's taken just before lunch at 11:00 AM or thereabouts, hence the "eleven" in its name. Once the clock ticks to the right time, head over to the Tea Centre at BOH's Sungei Palas plantation. It's the best place for elevenses, as BOH is the most recognizable name in Malaysia when it comes to tea, given that they own two tea plantations in the area.
Once you arrive, have some excellent drinks and snacks while enjoying the view from the Tea Centre's expansive viewing deck, which overlooks neat rows of growing tea plants. If this refreshing sight for tired eyes has inspired you to learn more about the tea-making process, you can try going on the BOH Factory Tour. After getting your fill of tea production trivia, you'll probably be hankering for a snack. Treat yourself with a blueberry scone or strawberry tart from the pastry case and wash it down with any of the fantastic BOH-branded hot or cold teas on offer
For a Healthy Lunch: Cameron Organic Produce
The cooler climate of the Cameron Highlands demands the consumption of hot, hearty broth. That's why you'll find plenty of meals cooked here using a popular method called "steamboat," a method of cooking similar to making hot pots. One similarity is that steamboat requires the use of a communal vessel connected to a heat source. This vessel is set at the centre of the table and filled with broth, where you'll cook various foodstuffs. This technique gets its name, though, because the cauldron has a chimney in the centre that allows heat and smoke to vent out from the source.
What makes Cameron Organic Produce's steamboat the best of the bunch, though? For one thing, this establishment elevates the basic family-style dish in two ways. Firstly, they only use healthy organic vegetables with their lunch or dinner steamboat sets. In fact, the place is known for having the freshest-tasting ingredients in all of the Highlands. Secondly, they use charcoal stoves, as it imparts a unique aroma to the food that can't be attained by employing gas.
To keep things simple, the menu contains only two dishes. The first is, comprised of a chicken-based broth served with 10 types of fresh organic vegetables, fish and chicken balls, crab sticks, bean curd, chicken meat, and seafood. The second choice is an all-vegetable meal that consists of a vegetable broth, the same 10 types of organic vegetables, mushroom, baby corn, vegetarian balls, and bean curd. For either meal, thin slices of beef can be ordered as an add-on. You can also ask for refills of whichever protein or vegetable you'd like.
For a Refined Afternoon Tea Experience: The Jim Thompson Tea Room
There's nothing quite like washing down a good lunch with afternoon tea. Luckily, enjoying this beverage is a daily ritual in the area and there's no better place to have it than back at the Cameron Highlands Resort's very own Jim Thompson Tea Room.
Once you step into its elegant yet cosy sitting area, you can treat yourself to a light meal that is as beautiful as it is delicious. You can sit back and sip on your cup of tea, as its open windows allow fresh air to circulate freely for a relaxing atmosphere. To go with your chosen drink, a selection of dainty bites is served on a three-tiered tray. Some of the tasty treats you can bite into include sandwiches filled with tuna, smoked salmon, cream cheese and egg and cress, an assortment of bite-sized cakes and pastries, and fresh scones with jam and clotted cream.
From the delicious food to the scrumptious tea, the Tea Room serves only the very best. That's because their fine offerings are harvested and processed right in the Highlands, so you can be assured of exceptional quality. The service is as top-notch as the food and drink, too. We're sure that besides the food, you'll come away remembering the extraordinary ambience the most.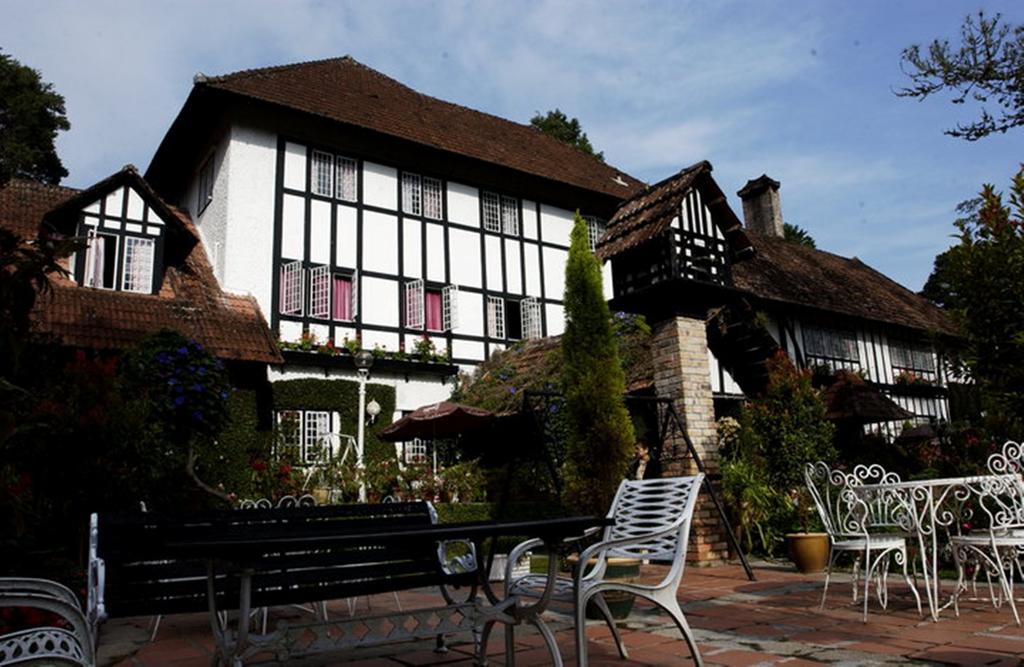 For a Hearty English Dinner: The Smokehouse
Even after a hearty lunch and afternoon snack, you'll probably find yourself famished after exploring the area all afternoon. Luckily, you'll have plenty of options for dinner. Only in the Cameron Highlands can you find such a high concentration of restaurants serving classic English staples such as beef Wellington, Yorkshire pudding, as well as steak and mushroom pie.
One of the best places to enjoy these dishes is at The Smokehouse Hotel and Restaurant, a cute Tudor-style cottage where a roaring fire awaits guests coming in from the chilly evening air. With an atmosphere reminiscent of a local English or Irish pub, The Smokehouse serves up comforting and scrumptious British favourites such as fish and chips, roasted leg of lamb, and steaks grilled to perfection. The idea is to stuff yourself with great food until you unwind and grow more comfortable in a room full of strangers. Once you've settled in after dinner, you can retreat to the lounge around the fireplace and get to know your fellow guests over desserts and coffee.
From breakfast till dinner, it's clear that the Cameron Highlands has got you covered with its various restaurants and cafes. Follow our list of notable eats, and we're sure you'll have one of the most memorable food trips ever.
For more ideas on where to go, see our Travel Guides.