Salted egg yolk fish skin. Lobster laksa. Indian fine dining. These are some of the buzzwords you may or may not have heard of if you have been paying attention to the culinary industry of Asia. Year in year out we find chefs inspire and be inspired by new and interesting selections. With the world moving towards a higher demand for farm-to-table, as well as a need for healthier options, we see the world of cuisine moving towards a more sustainable, yet tasty, future. Here, we will make our predictions on what we think we will see, what we want to see and what we want to see gone. We also speak to industry specialists to get in on their insights.
With the increase of globalisation, we see a pattern emerge in what can only be termed as global modern cuisine. This is because ingredients can be sourced from anywhere, anytime, birthing common combinations like Japanese-French fine dining, with both cultures having such a high appreciation for refined ingredients. We predict the next cuisine that will take the limelight will also come from two of the most distinct and most populous cuisines, with the introduction of Indian fine dining and perhaps, Chinese fine dining.
---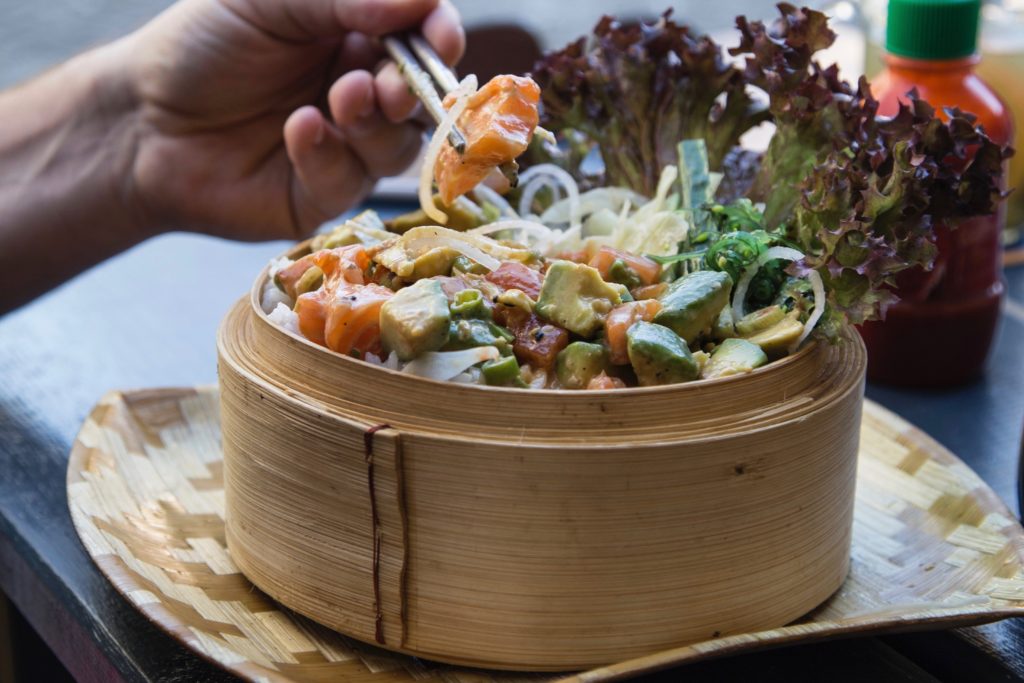 TRENDS WE THINK WE WILL SEE
Food Delivery Service
One trend that is seen more often is the instantaneous demand for food, not just food, but high-quality food. Food delivery is taking centre stage with people's increasing demand for convenience. With more and more apps offering delivery service such as Food Panda, UberEats and a plethora of new ones, we predict the market will start to grow crowded in the coming year. This can already be seen with services like Food Panda, offering McDonald's delivery when the commercial giant can't sustain its own delivery demands.
Fine Casual
Fine casual is also a growing sector, with more and more eateries serving refined food in semi-casual settings. These usually come under the name bistronomy, and usually serves food that is more affordable, but still prepped with high quality techniques. Examples would be duck confit in a casual setting.
Local Luxe
We predict that there will be an elevation of sorts for local dishes. With Malaysia being the melting pot of cultures, we can expect to see a further amalgamation of cuisines. Some local dishes that are already receiving this dress up would be the Sarawak laksa served with lobster instead of prawns. Other dishes we would like to see receive the same treatment would be dishes like wagyu tenderloin percik, chilli crab spring rolls and pai tee, and foie gras pan fried dumplings. We hope to also see a greater appreciation for Malaysian east coast cuisine, from states such as Kelantan and Terengganu in the form of a deconstructed nasi dagang maybe.
Five (Meals) A Day
As people are able to afford more meals, we will also see a trend of people having more in between bites and snacks when they can afford it. We already have breakfast, brunch, lunch and supper, but we also predict the birth of a fifth meal, perhaps with the resurgence of the high tea. Food trends tend to favour this with an increasing snacking culture; with milk teas, super sized juices and all sort of pastries becoming increasingly available.
Salted Egg Everything
This very old ingredient is receiving a second wind. We were on the page of it going out of fashion, but it decided to take a different reincarnation… as pre-packaged snacks. Now, we see the resurgence of pre-packed salted egg fish skin (which is also seeing a resurgence), salted egg crab sticks and salted egg bake goods like cookies and cupcakes.
---
TRENDS WE WANT TO SEE
Plant Based Meats
One thing that is lacking in the market is a variety of plant-based meat replacements. Lucky for Malaysia, tempeh is widely available, but this is not what we mean. We want to see more use of plant-based meats such as pea protein burger patties and soy protein bratwurst that sizzle like beef and pork. There are a few companies making these faux meats, but it would be great if they were more widely available as alternative to mock meats which are usually high in sodium. We are also hoping to see more jackfruit pulled pork in the market, with the flesh of the young jackfruit having the same texture as its meaty cousin.
Indian Fine Dining
A cuisine that we want to see more of is Indian fine dining. With Gaggan in Bangkok being voted as number 1 on Asia's 50 Best Restaurant, we hope that this will influence more restaurants to venture into contemporary Indian fine dining. With many unique ingredients that can have modern interpretations, we would love for there to be a wider selection from the different regional Indian cuisines with lamb interpretations from northern Indian cuisine, to a modern take on southern Indian seafood.
Chinese Fine Dining
The one cuisine that has yet to receive the fine dining treatment would be Chinese. As Chinese cuisine is very varied in flavour and preparation, there would be so much to lend from. Of the regional Chinese cuisines, the most well-known would be Cantonese for its refinement and focus on freshness in Dim Sum, Sichuan for its spicy flavours in Kung Pao Chicken (宮保雞丁, gong pao ji ding), Fujian for its sweetness in Three Cup Chicken (三杯雞, san bei ji) and Zhejiang for its bold flavours in Dong Po Pork (東坡肉, dong po rou). Chinese cuisine is extremely diverse and unique, from Chinese Muslim cuisine of the Xinjiang region which focuses on lamb, to Beijing cuisine with its heavy consumption of noodles and breads, to Mongolian cuisine, which is where the common siu mai originated from, which we hope to see interpreted in a refined setting.
Chinese Herbal Infusions
When it comes to traditional Chinese herbs, their use is still quite limited to traditional dishes, most commonly used in soups and stews. However, we would like to see these beneficial ingredients put to better use. Currently this is more seen in the cocktail industry, with infusions of Chinese herbs because of their complementary bitter, sweet and astringent flavours. However, we would like to see more use of ingredients such as honey dates (蜜枣, mi zhao) with its complex sweetness, or a more profound use of angelica root (當歸, dang gui) with its bitter sweetness that can elevate poultry quite well.
Cheese Everything
We also cannot get enough of cheese on everything but would like to see better use of it. Cheese can easily be divided into refined use, such as being served on its own, or commercial use, such as toppings to complement dishes. Today, we see cheese used even as a tea topping, but none other makes its appearance more often than as a slab on top of pastas, pastries and Korean fried chicken. We would however, like to see it being used in more unique ways, with perhaps the cheesy bak kut teh leading the way as a next level comfort food, and with cheese sang used as a topping for yee sang as a clever innovation.
---
TRENDS WE WANT TO SEE RETIRE
Rainbow Food
The trend of rainbow food has been overtly done, and is mainly trending because it caters to a millennial demand for Instagrammable pictures. However, there are only so many ways you can peel an orange, and we can't wait for this fad to pass. Perhaps with the knowledge that natural dyes are used, such as beetroot for reds, can somehow soften the blow.
Commercial Vegan Ice Cream
The next trend we want to see quickly retire is commercial vegan ice creams. Our view on this is that if you choose a vegan lifestyle, then you should know what you're eating. Many go on a vegan diet because it is healthier for you, but if you're going to have commercial vegan ice cream, we recommend for you to stick to the original. The sugar content in commercial vegan ice creams is terribly high so it actually defeats the point of a healthier snack. However, if you are on a vegan diet because of a life choice, then we think sticking to home made natural fruit desserts would be a better alternative. Also, taste-wise, vegan ice creams aren't worth the calories and sugar. You're better off making your own at home, just throw ripe bananas, pinch of vanilla essence, soy milk and ice into a blender. It's home made and not processed sugar loaded.
---
 TRENDS ACCORDING TO THE EXPERTS
"I think that there will be an emphasis on high sustainable food produce as it is becoming increasingly important to know where your ingredients come from. People are looking for untainted food produce with minimal influence. I also think foodies will look for a cleaner taste in dishes in the coming years. I also think that there will be a focus on the usage of sustainable wastage, for example, making use of every part of the food to avoid wastage and trying to encapsulate that into dishes. Fine Chinese cuisine will also definitely catch on, which is rather missing in Malaysia. I also predict that there will be a building of marriage between our local heritage as an emphasis. We will see a lot more local Malaysian influence in dishes soon, not a complete retake on traditional recipes, but creations based on tastes which remind Malaysians of where their heritage lie and childhood memories, regardless of race and religion. I also hope that the government will try not to put to many restrictions on fresh produce coming into Malaysia, which over the past months has been really hard for us as chefs to innovate." — Darren Chin, Executive Chef of DC Restaurant (Kuala Lumpur, Malaysia).
"I think that Peruvian cuisine will take off. There is a wide selection of unique ingredients used in South American cuisine, and everyone is eyeing South America at the moment." — Raymond Tham, Executive Chef of Beta KL and Skillet (Kuala Lumpur, Malaysia).
"In the last couple years, we've witnessed the new phenomenon of lunch delivery services. Take for example Dahmakan, Meraki Kitchen, Food Panda, UberEats and many more other small startups. I foresee that the meal delivery service trend will only get bigger and more competitive in 2018. Not just that, Tesco Online, Happy Fresh, and Honest Bee are also getting more aggressive in pushing their online marketing and delivery services. Thank god they save us plenty of time from looking for parking and queuing to foot the bill. I also think fine dining with local flavours and ingredients will be big such as Beta KL and Gen Penang. They use a lot of the local herbs like ginger flower, curry leaf, coriander, daun kesom and ginger in their menu." — Eunice Martin Lim, Food Stylist and Food Influencer at Eunice Eunny (Kuala Lumpur, Malaysia).
"We definitely see cheese being on trend this year, with more and more innovation being created all the time. We support these innovation efforts and have helped create new menus with our Pizzart campaign to encourage consumers to be more adventurous, such as the pretzza and pizza burgers. For the lunar new year, we worked with Chef Pele of Movida Group to conjure the cheese sang as well as the cream cheese sesame rice balls. These are just some of the innovations we support, and we will definitely see a more profound use of cheese everywhere." — Linda Tan, Foodservice Director of Fonterra Brands Malaysia (Kuala Lumpur, Malaysia).
"I think contemporary Malaysian is already on the rise, and sandwiches are going to make a comeback. With brands like Isaac toast from Korea coming in to Kuala Lumpur, I think smaller entities will start to pick up on it and create better versions. I also think Indian fine dining will be on trend." — Rueann Dass, Content Strategist of Burpple Kuala Lumpur (Kuala Lumpur, Malaysia).
"As for Shanghai, we see the Dirty Dirty Bread (脏脏包, zang zang bao) a bread covered in chocolate, poke bowls, specialist coffee and Japanese soufflé seem to be popular this year. But Shanghai is quite different to rest of the cities in China in general. Chao Zhou Beef Hot Pot (潮州牛肉火锅, chao zhou niu rou huo guo) and all kinds of hot pot restaurant is taking over the whole of China. Another nationwide phenomenal is this Red Oil Skewer Hot Pot (红油串串, hong you chuan chuan). Starbucks has also opened their biggest flagship special brew store in Shanghai. Apparently, the sales in their Shanghai store is four times of their US flagship store. Also, local coffee brands and chains are popping up really quick everywhere." — Mavis Lian, Restauranteur of Xime Shanghai (China).
"Environmental sustainability is king at the moment regarding beverage trends in general. I've also seen Amber on Landmark Mandarin Oriental pushing this too, which may be more fitting for food trends. The company I work for is called JIA Group, and at our flagship venue, Duddell's, we're launching a new menu next month with a focus on "soft cocktails", i.e., with no alcohol. Albeit an educated guess, I believe a good third of guests don't drink alcohol here, so we're focusing on providing options for that demographic in addition to your average lime soda." — James Barker, Group Bar Specialist of JIA Group, Duecento Otto, Commissary and Duddell's (Hong Kong).
---
So, there you have it. Some of our predictions on what we think we will see in the coming year. All in all, it seems that the general food trends are vying for more sustainable consumption as consumers and patrons wizen up to wanting to know where their food is coming from. We can't wait to see what happens.
For our media round table with Fonterra, see Fonterra Food Trends and Innovation 2018.
For our previous food trends article, see Food Trends for 2016.