Located in the mountains of Pahang is one of Malaysia's most prominent entertainment hubs, hosting an assortment of activities for the whole family. Genting Highland is the colloquial name for what really is Resorts World Genting, a hill resort consisting of an assortment of hotels, casinos, restaurants, theme parks but is also world renown as a performance arena, and is also the new home of the Miss Chinese International Pageant. For any first-time visitor to Genting Highlands, these information may be of help.
Genting Highlands is was inspired by entrepreneur Lim Goh Tong's visit to Cameron Highlands, another hill resort established by the British during the colonial days of Malaya. Genting Highlands is known for its cool climate which averages about 16° to 25°C, which is significantly cooler that most of Malaysia. The assortment of activities that can be had here makes it a self contained entertainment areas perfect for families and people who are looking for a little bit of everything, from dining to drinking.
---
What To Eat In Genting Highlands
Resorts World Genting has managed to bring restaurants and eateries from around the world, which are exclusively found in Genting Highlands, including Cafés Richard from France, Motorino from Brooklyn and Burger and Lobster from London.
Cafés Richard
Cafés Richard is France's most prominent producers of coffee, and has chosen to open a café in Malaysia, a feat they have not performed in any other country. The café has the ambience of a Parisian café, with elegant mosaic and motifs running throughout the café, as well as chairs facing outwards which is perfect for people watching, the kind you find across the Champs-Élysées. The coffee served ranges from the traditional French press, to the more interesting chemex, syphon and cold drip. The coffee here is deserving of attention for all the right reasons, complete with a complex menu of assorted beverages. Do try their chemex coffee for an interesting take, and also their eclairs, which were notably delectable.
Motorino
The iconic Brooklyn home grown Motorino is another that has launched its flagship store in Malaysia, and is located in the centre of Sky Avenue, Genting Highlands. Serving an assortment of New York style pizza, this eatery boasts a 1920's décor with a wide selection. Try the bresaola and arugula pizza for an interesting taste of cured meat, one of their better selection of pizzas offered.
Burger & Lobster
For the perfect combination of surf and turf, look no further than Burger and Lobster, one of London's most iconic pairings. The restaurant opens its first flagship store in Asia right here at Resorts World Genting. Signature dishes from London include The Mayfair, and the Asia only available dish, the Chilli Lobster. This dish is their take on a traditional Malaysian and Singaporean flavour, the infamous chilli crab, for its spice and tang. The burgers served here only use Australian beef, which at first sounds like an unusual pairing, but is really quite unique.
Genting Palace
The Genting Palace serves authentic Cantonese fare, and just perfect for the approaching Lunar New Year. The Genting Palace Chinese New Year menu consisting of 9 dishes, include a very flavourful Yee Sang (魚生, a dish consisting of vegetables, pickles, raw Japanese tuna and plum sauce), Steamed River Goby (筍殼魚, seon hok jyu) as well as Marmite Prawns. One thing you cannot fault them for is that each course is packed full of flavour, common to Cantonese cuisine. However, if you want to have a delicate tongue, do inform the chef that you would like your courses to be served with lighter flavours.
For more information, please see our review of Genting Palace.
---
What To Do In Genting Highlands
Genting Highland itself is quite a complete ecosystem, with things to do for the young to the old. For the young, there is always the Genting Highlands Theme Park, an indoor theme park, and for the older, there are restaurants littered everywhere. For those seeking some outdoor activity, there is also the newly branded Fashion Forest, a hiking trail.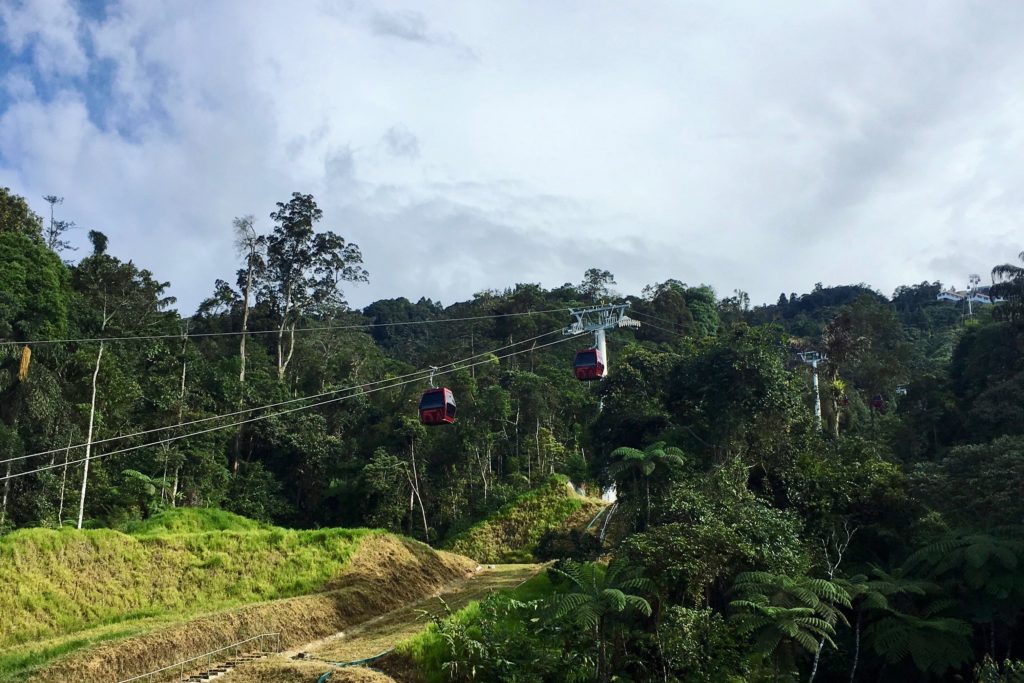 Awana Skyway
For a little bit of family fun, you can always consider taking a ride on the Awana Skyway, their iconic cable car ride which can fit up to 8 people per gondola, and for a greater experience, you can even opt for gondolas which come with a glass bottom floor. This ride offers not only the best aerial of the Genting Highlands, but also feels like you're floating when standing on the glass floor.
Fashion Forest
The fashion forest is not what you think, a shopping jungle haven. Instead, its actually a nature walk which starts Awana Hotel's Longhouse. Here, you will be able to join a private hiking tour across this landscape. The Fashion Forest is interestingly called so because they wanted to pique the interests of the younger generation, and they do this by naming their tress after celebrities which they call their celebri-trees. The hike has digital integration, which utilised QR scans throughout the forest, leading you to interesting information. This is a great way to connect with the younger generation as its quite fun and interactive. Picture opportunities are also available in an iconic National Geographic-esque yellow rectangle frame.
Arena of Stars
The Arena of Stars is also one of the most popular destinations for events and shows, which recently hosted the Miss Chinese International Pageant 2017 (國際中華小姐競選). This annual pageant selects a winner from the international Chinese community, and consist of the overseas Chinese diaspora. This is the first time the Hong Kong based TVB has relocated the inaugural pageant outside of Hong Kong, with the crowning of Miss Stitch Yu, a contestant from New York.
Genting Highland Theme Parks
The theme park itself is quite extensive, complete with many shopping outlets of high street brands, restaurants, food stalls and rides for children of all ages. One of its best features is that most of the activities can be had indoors at the First World Indoor Theme Park, which can be experienced whether rain or shine. There is also Snow World, for you to experience real now, as well as the Video Games Park, complete with all the video games you will ever need. These make an excellent spots to spend quality time with your loved ones.
---
Where To Stay In Genting Highlands
There are a number of hotels at Genting Highland, fitting the budget and luxury as you would like. The more affordable hotels will provide you essentially a simple night's sleep while the more luxurious ones come as any five star hotel would.
First World Hotel
Malaysia's biggest hotel boast up to 4 towers of rooms, however, these ones provide your basic night's sleep with minimal amenities. This is really for those looking to have a quick and cheap place to rest after a long day out in the theme parks shopping and eating. The rooms are small, but is perfect if you were going to spend most of your holiday out and about.
Genting Grand Hotel
Genting Grand is a five-star hotel that provides all the amenities that you would expect from a 5 star hotel. It's iconic look with its red logo stands out in the Genting landscape, and is also one of the oldest hotels in Malaysia. Being recently refurbished, this hotel will help you get a good night's rest, especially if you have been spending the night into the late hours.
---
The Genting Highlands Experience
Genting Highland has continued to deliver as one of the best holiday destinations in Malaysia, whether it is for some family time at the theme parks, a visit to one of the many shows at the Arena of Stars, or even the casinos (gambling is generally not encouraged in Malaysia and is illegal for Muslims). Being an ever-evolving entertainment giant, their continued expansion with the newly opened Malaysian Food Court, upcoming shopping haven Sky Avenue and 20th Century Fox Theme Park, a weekend at Genting Highlands will assure fun at each and every turn.