Chiang Mai (เชียงใหม่), also styled Chiangmai, is proverbially known as the spiritual capital of Thailand, with its calming pace of life and mountainous atmosphere. When compared to its other gems such as Bangkok or one of their many beautiful islands such as Phuket or Koh Phangan, Chiang Mai serves to deliver an entirely different experience. Not as famous to foreigners as a holiday destination, Chiang Mai is known to locals as a must visit for its pristine clean air and local vacation spot. Poetically known the rose of the north, Chiang Mai falls under the northern region of Thailand, and home seat to the ancient capital of the Kingdom of Lanna, famed for its distinctive Lanna culture and home to Lanna Cuisine. Here, we shall explore some things to do in Chiang Mai for first time visitors.
Kingdom Of Lanna And Lanna Culture
Chiang Mai means "new city" in Thai, and is home to Lanna culture which quite significantly different from Siamese culture to the south in Bangkok, where once sat the Kingdom of Siam. Chiang Mai became the capital of the Kingdom of Lanna, succeeding Chiang Rai as its former capital. The culture here is heavily influenced from Indian culture, and to some extent Myanmarese culture and Yunnan culture from Southern China which it borders. This can be seen in the food they eat which is more herbaceous and use of plants native to the environment.
Useful Thai Phrases in Chiang Mai
The people of Chiang Mai speak their own language known kam mueang (คำเมือง), which roughly translates to 'language of the city', in reference to Chiang Mai, as opposed to the languages used by the hill tribes. Here, the language also differs slightly, as with most regional dialects. However,  never say to a Lanna that they are Thai as they see themselves as culturally distinctive to the "Thais" of the south. An example of this is how hello is said by women, where in Bangkok, it would be sawatdee kha, whereas in Chiang Mai it's sawatdee chau. Note that for simplicity, I'm using spelling as to how words are actually pronounced, in which actual spelling may differ.
English To Thai
Hello (male / female) = Sawatdee (krap / chau) สวัสดี (ครับ / สาว)
How are you? = Sabaidee (krap /chau)? สบาย ดี ไหม (ครับ/สาว)
Yes = Chai (ใช่)
No = Mai chai (ไม่ใช่)
How much? = Tao rai? (เท่าใด)
Do you know? = Khoon jak roo wa? (คุณจะรู้ว่า?)
Is it far away? = Man klai? (มันไกล?)
Delicious = Aroi mak (อร่อยมาก)
Thank you = Krap khun (krap /chau) ขอบคุณ (ครับ /สาว)
---
What To Eat In Chiang Mai
Chiang Mai is famous for some key dishes, and you can see how their food is influenced from its borders of Myanmar, India and China. This is seen in the use of Chinese noodles, Chinese pickles, and variations of curry.
Khao Soi (ข้าวซอย)
A must try in Chiang Mai would be the Khao Soi. A noodle soup dish made from deep fried egg noodle in a curry soup, served with chicken or seafood, pickled vegetables, limes and shallots. This dish is quite sweet in nature and is quite similar to a Massaman curry, but less peanuty. What is interesting about this dish is how the noodles are prepared, they are first deep fried, then placed in a curry soup. This gives the dish quite an interesting texture.
Sai Oua (ไส้อั่ว)
They are also famous for its Sai Oua, a Lanna herbaceous and spicy sausage, made with coarsely chopped pork, and flavoured with herbs such as galangal, kaffir lime leaves, lemongrass, garlic, fish sauce and an assortment of chilli and spices. Variation includes a soured pork sausage (left to ferment for a week), liver sausages and blood sausages.
Khanom Jeen Nam Ngiao (ขนมจีนน้ำเงี้ยว)
Chiang Mai is also famous for Nam Ngiao, a noodle soup dish made with fermented rice vermicelli (Khanom Jeen), beef or pork, blood cakes and preserved vegetables in a mildly spicy stock. Quite a hearty yet light dish at the same time, this dish is more flavourful due to its use of ingredients like blood cakes and pungent vegetables, but is less known than its cousin, the Khao Soi.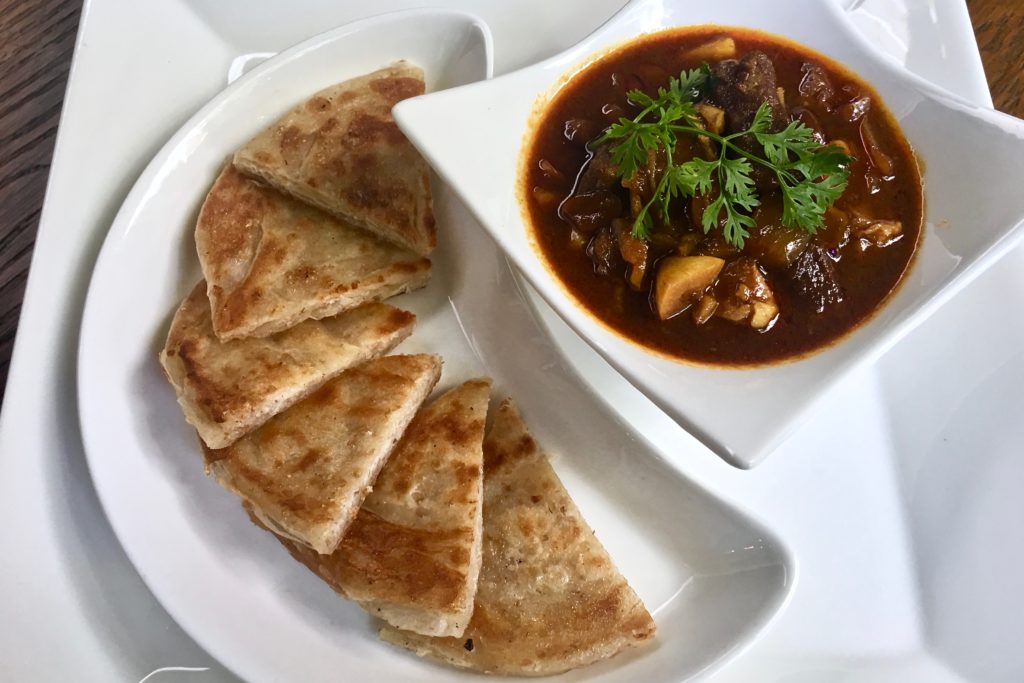 Kaeng Hang Lay (ฮังเล)
A Northern curry dish, the Kaeng Hang Lay, is a curry pork, beef or mutton dish, that is usually served with sticky rice or roti (Indian flat bread). Originally from Myanmar, they Chiang Mai variation adopts a local key ingredient in Thai cooking, the tamarind. This is what imparts a pronounced sour taste. You may see it on menus in Chiang Mai as Hang Lay, Henk Lay or even just Burmese curry.
Mango Sticky Rice, Khao Niao Mamuang (ข้าวเหนียวมะม่วง)
Mango sticky rice is one of the most famous Thai exports, in which sticky rice is served with mangoes and coconut milk. This dessert dish is served with sticky rice, although commonly called glutenous rice, does not contain a high amount of gluten, but is called so because of its sticky texture. As the rice consumed in Chiang Mai is predominantly sticky rice, they also serve some of the best mango sticky rice in the country.
Chiang Mai Market Pastries
Chiang Mai is home to a plethora of markets, and some of their unique faire comes from the local pastries. Most of the pastries are made from sticky rice, instead or jasmine rice, and is quite unique in its texture and flavour. Some examples of must try are the taro pastries, Khao Tang (ข้าวตัง) which are crispy rice crackers, and Khanom Kai Nok Krata (ขนมไข่นกกระทา) which are sweet potato balls.
For a complete Chiang Mai street food experience, see our Food Guide: Chiang Mai Street Food.

---
What To Do In Chiang Mai
Chiang Mai is the most cultural significant town in northern Thailand, equipped with a plethora of things to do. Most city activity is centred around the Walled City, also known as the Old City, in which the city wall is built in a square with a moat surrounding it. There is a bit of a nightlife in Chiang Mai, and centred around the old city. The Walking Street Market is a also an main attraction what happens on Saturday and Sunday nights. Chiang Mai however, is more of a place to relax, do some inexpensive shopping, as well a place to enjoy the local culture and how close to nature it actually is.
Elephant Sanctuaries
Chiang Mai is home to one of the most sacred species of animals on earth, the Elephant. As an iconic creature to the Thai, there are Thai sanctuaries set up to protect and conserve this noble species of animals. You can start by enquiring at Baanchang Elephant Park or Chai Lai Orchid. Do note that an elephant sanctuary is not the same as elephant tours, with the former being the better choice as the animals are not mistreated.
Temples in Chiang Mai
Chiang Mai is home to many temples (wat in Thai) and is great for a walk around. The Thai culture is almost synonymous with Buddhism as it is one of the most predominant religions in the area. Each temple is ornately decorated and is definitely worth a visit. Some standout temples would be Wat Phra That Doi Suthep and Wat Chedi Luang, but in all honestly, a walk around the old city would be a great place to start. Each temple is intricately decorated and you can even engage monks in talks about Buddhism or just life in general. It's a very calming experience.
Yi Peng (ยี่เป็ง) / Loi Krathong (ลอยกระทง) Festival
Yi Peng is the festival held on the second month of the Lanna lunar calendar, which coincides with Loi Krathong, a festival held on the 12th month of the Thai lunar calendar, usually falling around November. In Lanna, yi tanslate to two and peng means full moon, whereas in Thai loi means to float and krathong, basket. This combination of light and water sees people doing two things, one, where they release candle-lit banana leaf boats down the rivers in worship of the Goddess of Water, Phra Mae Khongkha (พระแม่คงคา), or two, you also see lanna-style sky lanterns khom loi (โคมลอย) being lit and released into the sky. There is also the Songkran (สงกรานต์), a water festival that happens in April.
Lanna Massage And Hot Springs
Because of it being quite the mountainous region, Chiang Mai is also home to some less known hot springs. These are places that only the locals go and can be about an hour away from the city itself. The great thing about this is you can get a traditional Lanna massage, which differs from the traditional Thai massage in which they use herbs in the detoxification process. The massages emphasise less on strength, but more on technique. A Lanna massage drains your lymph nodes of toxicity using herbs, either through a hot pack (also known as a Thai herbal compress ball) or a herbal steam bath which leaves you feeling lighter and refreshed after. If you speak to the right locals, you may even be taken to one of the jungle retreats where you can have a massage in the serene surrounding of the jungle, a herbal steam bath and a dip in the sulphurous hot springs.
Long Neck Karen Village
The Kayan tribe (also known as the Long Neck Karen) are a subgroup of the Karen tribe, a people originally from Myanmar who settled in Chiang Mai, famous for their elongated necks due to the tradition of wearing golden neck rings. The word elongated is actually inaccurate as their necks are not truly elongated, but is so because their shoulder bones are squashed down by the weight of the golden rings, giving that impression. The Kayan settled in Chiang Mai after feeling from political conflict in Myanmar, creating and sustaining their own traditional culture in small societies. As many hill tribe village communities, they make a living by farming, weaving and woodcraft. If you do visit one of these villages, please pay them the utmost respect and do ask politely if you want to take a picture with them, which they would normally gladly oblige.
Cooking Classes And Culinary Schools
Thai cuisine is one of the worlds most popular international cuisines, and what better way than to learn from the best. In Chiang Mai, you are able to find many types of cooking classes, with some, teaching on how to make one of Thailand's most recognisable dishes, the Pad Thai. These cooking classes can be experienced at culinary schools, or if you prefer, in the luxury of your own hotel. The Cooking Class at 137 Pillars House Chiang Mai is one such boutique hotel that delivers such an experience where you can have a one-on-one session with a chef. They will take you for a market walk to teach you about Lanna cuisine, basic Thai ingredients and cooking methods so that you're able to reproduce the dish at home.
For a suggested cooking class, see our review of  Cooking Class at 137 Pillars House Chiang Mai.
---
Where To Stay In Chiang Mai
As Chiang Mai is part of Thailand, one of the most renown holiday destinations in the world, there are a variety of selection of places to stay. Although Chiang Mai can be traveled as cheaply, for example, backpackers, Chiang Mai is also home to some of the best luxury boutique hotels in Asia. You really get a good spectrum of light and easy; to comfort and luxury.
My Chiangmai Boutique Lodge
If you're on a budget, you could opt for an affordable option like the My Chiang Mai Boutique Lodge. Rooms are fairly affordable and is quite central to the old city. The concierge speaks good English, have clean double beds, hot running water, spacious rooms and breakfast included.
RarinJinda Wellness Hotel & Spa
For a more luxurious and traditional Chiang Mai experience, there is the luxury boutique hotel RarinJinda Wellness Hotel & Spa. This traditionally converted building has all the awnings of a traditional Thai estate with one of the most luxurious spas in Chiang Mai. The old style hotel has a late functioning spa with very spacious rooms, perfect for the relaxing luxurious spa experience all within the hotel itself. In front of the hotel also sits Deck 1, one of Chiang Mai's nicest locations by the river for fine dining.
For a choice of a spa resort hotel see our review of RarinJinda Wellness Spa Resort Chiang Mai.
137 Pillars House Chiang Mai
If you are looking for a nice romantic getaway in a beautiful and serene colonial setting, there is 137 Pillars House Chiang Mai. This is the former residence of Louis Leonowens, the famed son of Anna Leonowens, more popularly known as Anna from the fabled story of the King and I, which has been restored and converted into a colonial heritage hotel. Named for its 137 original pillars holding up the centre of the structure, the grounds are peppered with individual chalets for privacy and quiet.
For a choice of a heritage hotel, see our review of 137 Pillars House Chiang Mai.
---
Chiang Mai is easily one of the most underrated places for a holiday as it comes with mixed reviews. With a place like this, you need to know what you're looking for. Enjoy the city as it comes and take advantage of every little nook and crannies that you come across. It is a place to get away from the bustle of the big city with a more relaxed pace of life.