[PRESS RELEASE]
Ring in an auspicious Lunar Year with exquisite and sumptuous culinary indulgences at Szechuan Court. Thoughtfully crafted by Master Chef Mok Wan Lok, delight in six decadent set menus, as well as an exclusive à la carte menu of impressive festive signatures and refreshing creations; available from 24 January to 19 February 2019.
Szechuan Court Chinese New Year 2019 Menu
Indulge with friends and family or impress business associates at Szechuan Court, with a choice of six lavish prosperity set menus specially designed to tantalise palates. Showcasing the most opulent flavours of the festive season, the set menus are priced from SGD528++ for 4 persons to SGD1,688++ for 10 persons, and SGD108++ per person for the vegetarian set menu. Refer to Annex A for full menu. For more details, see Szechuan Court Chinese New Year 2019 Menu.
Prosperity Yu Sheng  富贵鱼生
Begin this season of feasting with an auspicious tradition of tossing and exuberant well- wishing with Szechuan Court's Prosperity Yu Sheng. The stunning platter features a vibrant medley of julienned vegetables crowned with generous portions of oceanic harvest options – snow crab, fresh sashimi salmon, or abalone; enthralling senses with a symphony of flavours and textures accompanied by a homemade sauce of sweet plum and tangy kumquat.
Salmon Yu Sheng 三文鱼捞生 at SGD58.00++
Sliced Coconut Meat, Vegetarian Abalone Yu Sheng 椰肉素鲍鱼捞生 at SGD58.00++
Snow Crab Yu Sheng 白雪螃蟹捞生 at SGD88.00++
Abalone Yu Sheng 鲍鱼捞生at SGD98.00++
Szechuan Court's Prosperity Pot of Gold 四川阁招财黄金盆菜
A mouth-watering pot of heavenly treasures, embracing the finest seasonal ingredients of whole South African abalone, Japanese dried oysters, Australian scallops, superior fish maw, sea cucumber, juicy prawns, 'fatt choy' (black moss) and a selection of succulent roasts. Braised in superior chicken broth over low heat for at least four hours, this culinary labour of love is brimming in good fortune, makes for perfect accompaniment with a bowl of fragrant white rice.
Double-Boiled Soup with Conch, Sea Cucumber and Fish Maw 响螺炖海参花膠
Take pleasure in a delicacy of rich piping hot consommé. A generous double-boiled goodness of conch, sea cucumber and premium fish maw simmered in a nourishing broth for eight to ten hours – definitely a hearty option with a touch of luxe.
Sautéed Coral Clam and Jumbo Asparagus in X.O. Chilli Sauce X.O.酱芦笋珊瑚蚌
Discerning epicureans will delight in this scrumptious serving of fragrant sautéed clam and asparagus. Succulent clams and jumbo asparagus are deep-fried till crunchy before tossing in Szechuan Court's signature X.O. chilli sauce. Certainly a dish not to be missed.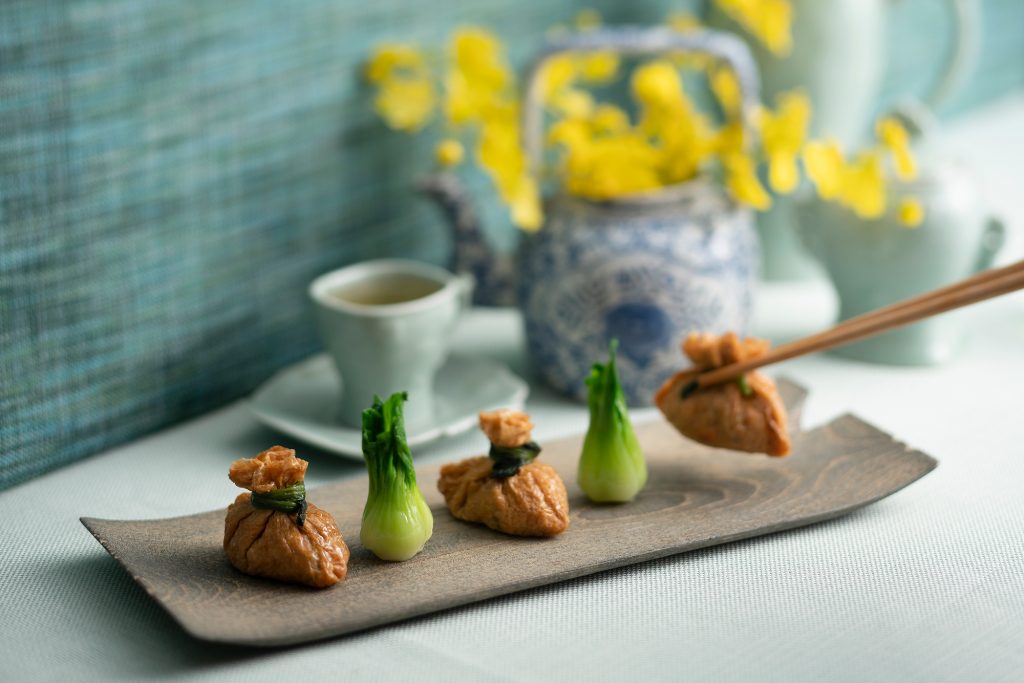 Stuffed Assorted Vegetables in Sweet Bean Curd Pouch 腰銭万贯
Presenting another new addition to the festive feast is a wholesome vegetarian dish of stuffed assorted vegetables in sweet bean curd pouch. Fried to a golden hue, each piece is individually hand-folded from dough before filling with fresh assorted greens, set within a dainty pouch, representing bags of gold and abundance of wealth.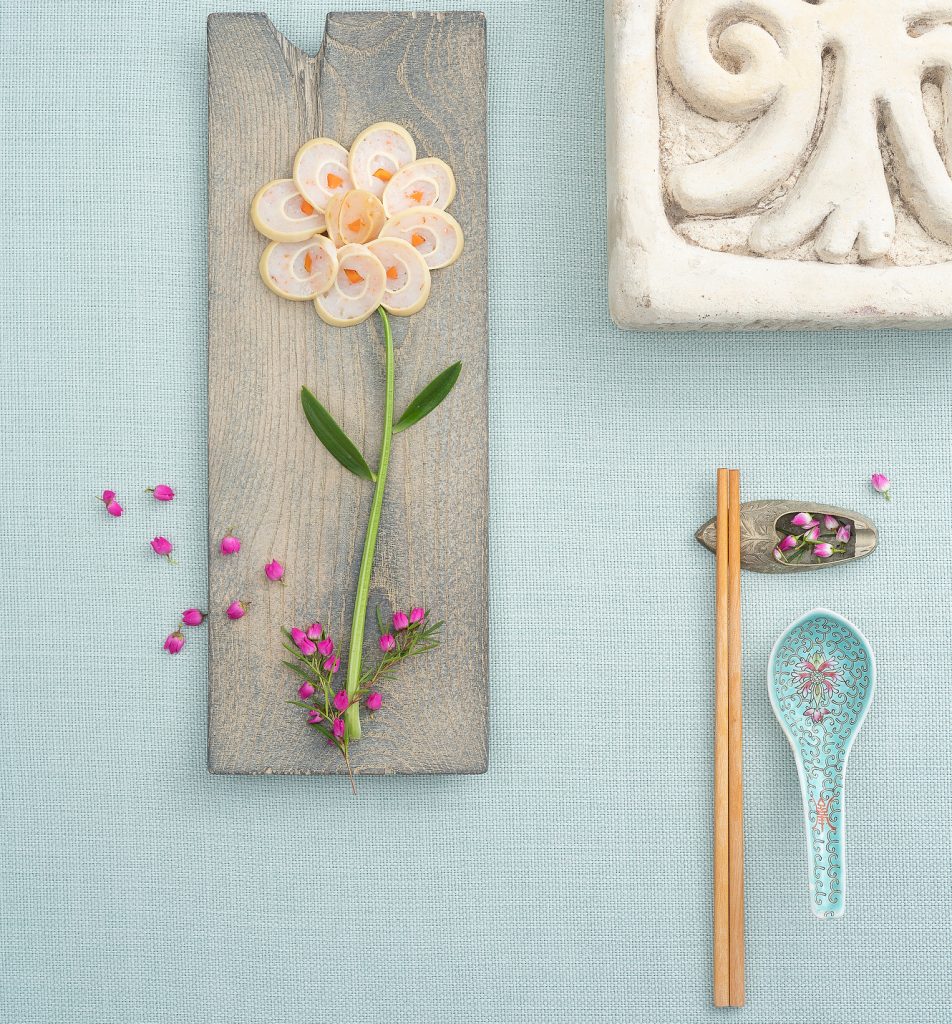 Homemade Prawn Mousse Tofu Roll 錦銹百花卷
Prawn moose tofu roll is beautifully decorated in the shape of a flower, served on a delicate board.
Traditional Yam Nian Gao 双辉年糕
Year after year, the timeless Lunar New Year traditions with Dim Sum Chef Mandy Yeo never fail to please. Presenting an exquisite duo of Traditional and Yam Nian Gao. Drawing inspiration from a popular local dessert, these luscious gems are gently speckled with coconut flakes, providing a nice textural contrast to conclude your celebratory feast on a sweet note.
Divine Lunar New Year Dim Sum
Diners can satisfy their dim sum cravings with delicate handcrafted items specially created by Chef Mandy this Lunar New Year including the fragrantly Steamed Gold Leaf Prawn Dumplings (金箔鲜虾饺, $9.80++ per set of three pieces) with generous fillings of prawn. Be sure not to miss the contemporary East-meets-West dim sum creations of Pan-Seared Goose Liver Glutinous Rice (香煎鹅肝珍珠饭, $12.80++ per portion) and the luxurious Black Truffle Siew Mai (黑松露烧卖, $12.80++ per set of three pieces) that will enthrall with both taste and sophistication.
The Szechuan Court Chinese New Year menu will be available from 24 January 2019 to 19 February 2019.
Any posts on this website with the title Press Release are not the views, thoughts, and opinions are not representative of the views, thoughts, and opinions of Food For Thought.
---
Szechuan Court & Kitchen
Level 3, Fairmont Singapore,
80, Bras Basah Road,
Singapore 189560
+65 6431 6156
Opening Hours:
12.00 pm to 2.30 pm; 6.00 pm to 10.30 pm
Weekends 12.00 pm to 3.00 pm; 6.00 pm to 10.30 pm

| PHOTOGRAPHY BY: FAIRMONT SINGAPORE | WEBSITE: SZECHUAN COURT |