Suzie Wong: Cabaret Cocktail Bar
Located behind the wall of a little wonton shop, Suzie Wong is known for its decadent nightlife and exciting cabaret shows. The much bigger than it looks hole in the wall is actually home to one of Kuala Lumpur's best kept secrets, which opens up into two large areas, the medieval influenced Robert Lounge, and the cabaret and performance hall named the Suzie Room. Although they carry a decent cocktail programme and dinner menu, the star of Suzie Wong is really its performances.
Suzie Wong has a wonton stall selling noodles in the front of its entrance, selling simple local Chinese fare, but once you enter, it tells a different story. The bar is divided into two different areas, the Robert Lounge which is medieval themed, and the orientalist Suzie Room.
"Our concept, a cocktail bar with live entertainments. The interior reflects 50's era, where east and west collides in a grandeur and seductive pleasure. We have weekly live band performances consisting of renowned guest vocalist in the live entertainment circuit as well as band members from award winning and international touring live bands. Our shows (cabaret, musical) also boasts a varied and dynamic programme which combined music, dance, theatre and circus acts in stunning shows that enthralled a large and varied crowd."
Cabaret Nights & Live Music Lounge
Suzie Wong hosts a number of interesting performances, ranging from singers to live bands to its impressively popular cabaret nights. Cabaret performances are hosted every night, with the "Complete Suzie Wong Experience" being held on Fridays and Saturdays, which include the cabaret shows, together with the live bands and a DJ that runs late into the night.
Suzie Wong's Dinner & Show
Suzie Wong offers thematic shows on Thursdays that change every few months, with the current iteration being titled Konnichiwa, a Japanese themed dinner and show. The format is as such, you begin your evening with a dinner menu set to a cabaret show, with intervals in between. The evening then turn into a night which ends with a DJ playing till 3.00 am.
Suzie Wong's Musical
On Fridays and Saturdays, patrons will be able to enjoy musicals performed, with many iterations of iconic and famous productions in the past. The current lineup however, showcases these 4 shows, Chicago, Burlesque, Coming to America and even Avatar. Do check with them on timings and availability as they are set at different times and dates.
Suzie Wong
Rum, gingerbread syrup, coconut water, citrus
Suzie Wong is their signature cocktail, which has the sweet umami from the gingerbread syrup, with the citrus balancing out the cocktail. A simple yet delicious one.
Robert Lomax
Gin, fernet-branca, Campari smoked with hickory wood chips
This cocktail is definitely one for those who like something a little more intense, with its beautiful bitter flavours, an interesting twist on a negroni. Definitely for those who like a smoky flavour. This cocktail is highly recommended.
Mei Ling
Hennessey V.S.O.P., amaro, lime juice, mint leaves, fresh ginger, ginger beer
The Mei Ling is a cocktail that has a little bit of spice to it, and is one for the whiskey fans. The addition of the amaro and ginger beer does add a complexity to the cocktail, with the ginger giving it a slight kick.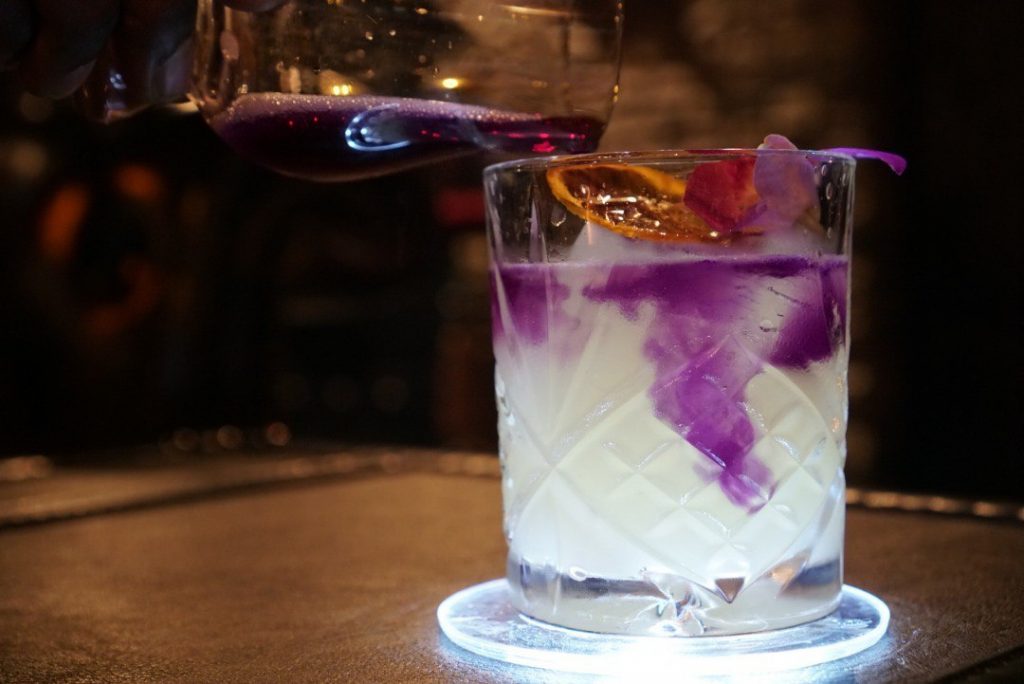 Bunga Telang Sour
Gin, elderflower liqueur, lemon juice, house infused bunga telang, soda, elderflower syrup
One of their signatures, the cocktail leans on the sour side, and is perfect for those who prefer a sweet-sour cocktail.
The Suzie Wong Experience
Suzie Wong is not just your run of the mill bar, with having quite a lot to offer. It's perfect for its show-stopping cabaret as well as live music that goes on late into the night, all within a throwback 1920's shanghai feel. Although famous for its performances, they do make really decent cocktails.
---
Suzie Wong
Wisma Lim Foo Yoong,
86, Jalan Raja Chulan,
50250 Kuala Lumpur
+6017 2266 480
Opening Hours:
Mondays to Fridays, 4.00 pm to 3.00 am
Saturdays, 6.00 pm to 3.00 am
Closed on Sundays
| PHOTOGRAPHY: SUZIE WONG | WEBSITE: SUZIE WONG |