Located within Macalister Mansion sits Restaurant Blanc, contemporary European with an Asian twist. Headed by Executive Chef Benny Yeoh, Blanc is one of the most beautiful you will come across in Penang. The contemporary European fine dining serves an eclectic cuisine with certain dishes that showcase what you can do with simple ingredients, for example, the onion.
Restaurant Blanc: Contemporary French in the heart of Penang
Restaurant Blanc is spearheaded by Benny Yeoh who brings 10 years of his culinary experience who has cut his teeth at Corner House in Singapore, which showcases his prowess as a melding of European techniques with Asian flavours. One thing that the restaurant does is offer a carte blanche menu, the Blanc Menu De Saison, which is an omakase style menu, picked from the best ingredients they can find at the moment.
Canapes
Tomato, nagaimo, chutoro, chicken gizzard
The canapes were presented as four separate bites, with the tomato being a punch of sweet umami, the nagaimo refreshing and perfectly rectangle, a chutoro tart and the most interesting of the four, the chicken gizzard pressed in a cylindrical crisp tube filled with bits of flavour and texture.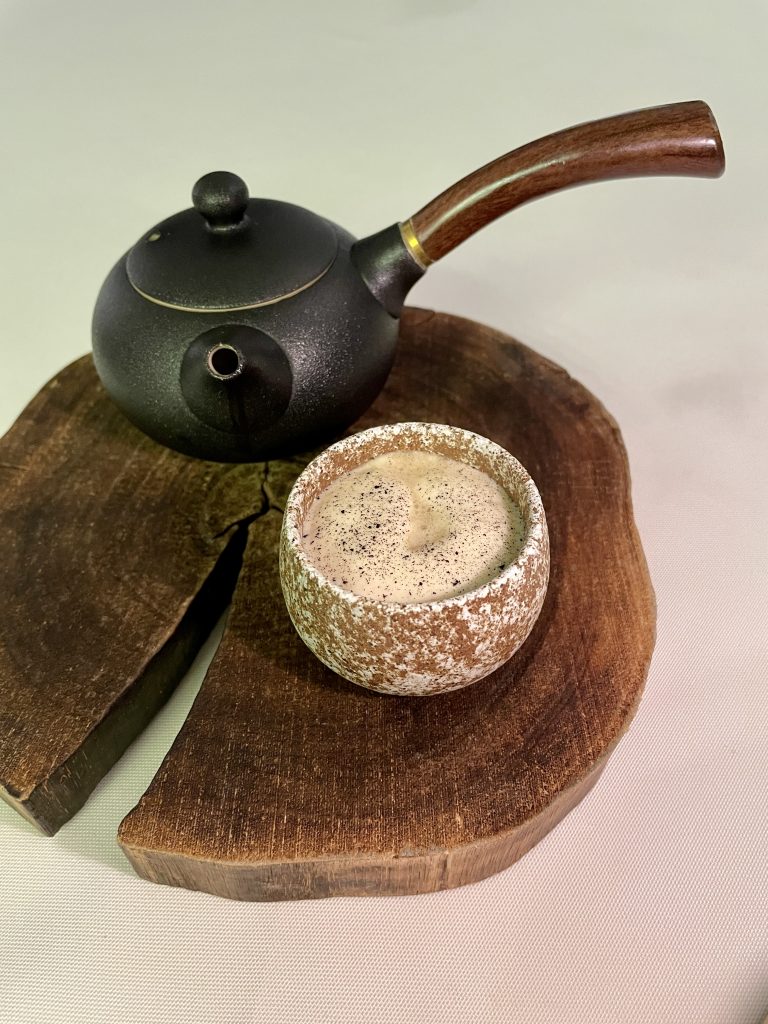 Onion Mille Feuille
Kaluga caviar, camembert, and fennel
The onion mille feuille had a certain sweet umami to it, with an interesting constrast of acidity from the fennel. A simple but effective dish. This dish was served with a side of very delicious onion tea, topped with an onion foam.
Abalone
Leek flower, petit pois, and parsley
The abalone dish was executed well, with a certain crunchiness and char to it, with flavours you would find in modern Singaporean fine dining, alluding to the chef's experience.
Atlantic Cod
Kanimiso, trumpet mushroom, and bamboo leaf
A sight to behold, the Atlantic cod is prepared tableside over hot coals in a trolley, plated by the chef himself. The dish is cooked in bamboo leaf, adding a certain smokiness to the fish. The trumpet mushrooms added a layer of texture to contrast the thick juicy firmness of the fish, with a kanimiso sauce bringing it all together. Quite a punch of flavour.
Iberico Pork
Nasu eggplant, black garlic, and pork tendon
The iberico pork were cooked perfectly, pink yet crisp on its surface, but tender to the bite, but what was the best part of this dish was that it was full of flavour. The black garlic was a nice sauce to the dish, which stood on its own with or without the eggplant.
Lychee Vacherin
Watermelon, elderflower, and basil
A simple but effective dessert of textures and temperatures.
Japanese Sweet Corn
Honeycomb, granola, and smoked milk
A good use of sweetcorn as a dessert with the smoked milk adding a layer of unexpected flavour. Our favourite dessert of the night.
Magnum Trolley
A playful way to end the dinner, the magnum trolley lets you choose your ice cream and how you like to flavour it, with condiments adding to the plate.
Restaurant Blanc Experience
It would be very fair to say that Restaurant Blanc is one of those restaurants that executes dishes well, with techniques that are euro-centric, but flavours which lean towards being ultimately more Asian. Some technique driven dishes such as the onion mille feuille are done very well, which may be easily overlooked, while flavour bombs such as the cod and pork stand out for how well they were cooked. Restaurant Blanc definitely deserves a visit, adding to the growing fine dining scene in Penang.
For our previous reviews, see Macalister Mansion.
---
Macalister Mansion
228, Macalister Road,
10400 George Town,
Penang.
+604 228 3888
| PHOTOGRAPHY: MACALISTER MANSION | WEBSITE: MACALISTER MANSION |