Hidden in plain sight in the Wat Ket district of Chiang Mai lies a 140-year-old Thai teak wood home which has been repurposed into one of the most splendorous boutique hotels in the heart of Chiang Mai, the RarinJinda Wellness Spa Resort. The picturesque spa hotel takes its name from the Thai language and means "Jewel on the Water", and is located on the riverbanks of the Ping River overlooking the Doi Suthep Mountain. It is with these factors that make it one of the most idyllic places to pamper yourself.
As you walk through the grand entrance of the heritage hotel, you are instantly greeted with a feeling of calm and relaxation. This is amplified by the colours of dark brown from the teak structure and earthen tiles leading up to the wooden house with Burmese and Colonial British influences. The main building, RarinJinda House (Ruen RarinJinda), is the main reception area, with the Baan Thai Conference Room located on the second floor of the main house.
The hotel is located on the Charoenraj Road on the bank of the Ping River, all within the life and heart of Chiang Mai in the Wat Ket district. The hotel is surrounded by a number of nice bars and and eateries, but the hotel is big and large enough that you are not directly affected by the noise, yet close enough for a evening out without having to travel too far out of town.
The marketing of the hotel is handled by Narun Wiwattanakrai, who runs a tight ship ensuring that every patron has a divine relaxation experience as this hotel is also home to RarinJinda Wellness Spa, Chiang Mai's most complete spa with expert therapists and the most modern spa technologies. When asked what their philosophy is, Wiwattanakrai stated: –
"With over 10 years of experience in the spa industry, we believe that at that time in 2006, we needed a Wellness Spa Resort that serves clients who needed a wonderful retreat or perfect getaway. After purchasing the land that comes with a 140-year-old teak wood house, we built the resort and spa under the same theme. The building itself has a lot of history. Moreover, it also has a distinct architecture which is a mix of Western Colonial and Burmese style and was adapted to suit the local environment. The house has been visited by HRH Princess Galyani Vadhana, the late King's elder sister. The resort appreciates the value of this historical home, and is determined to preserve its antique character, thus renovations were done in a manner that the materials used are either the same, used from small antique teak wood houses bought by the resort, or very similar. Traditional Thai furniture and antiques that tell the stories of ages past are being used to embellish and decorate. Attention to architectural details and creating balanced energy flows create an ambience of harmony and peace where time stands still." — Narun Wiwattanakrai, Chief Marketing Officer of RarinJinda Wellness Spa Resort.
RarinJinda Wellness Spa Resort Rooms
There are 35 rooms in the establishment, with 4 types of rooms to choose from, each one catering to different levels of opulence. The basic room is the Deluxe Room, followed by the Deluxe Pool Access Room which opens up directly to the swimming pool, the very opulent Wellness Suite and the most exclusive RarinJinda Villa.
Deluxe Room
The Deluxe Room consists of a 46-square metre room, furnished with antiques, a separate shower, bath tub and bathroom. The rate of this room is ฿6,500 per night (Approximately RM810+, USD180+, £140+).
Deluxe Pool Access Room
The Deluxe Pool Access Room consists of a 53-square metre room, furnished with antiques, a separate shower, step down Jacuzzi, bathroom and open door access to the swimming pool. The rate of this room is ฿10,000 per night (Approximately RM1,250+, USD280+, £220+).
Wellness Suite
The Wellness Suite consists of a 93-square metre large room, furnished with antiques, a separate shower, indoor Jacuzzi, en-suite bathroom and a private outdoor terrace, which bay windows opens up to the indoor Jacuzzi. The rate of this room is ฿16,000 per night (Approximately RM2,000+, USD460+, £350+).
RarinJinda Villa
The RarinJinda Villa consists of a 164-square metre large room, complete with a large living room, formal dining area, and a large outdoor terrace complete with an outdoor Jacuzzi. Occupying over half of the top floor, the 2-bedrooms villas comes with a master bedroom with an en-suite bathroom and a twin bedroom with a separate bathroom. This room fits 4 people and is ideal for families. The rate of this room is ฿27,000 per night (Approximately RM3,300+, USD770+, £600+).
---
Review: Wellness Suite
The Wellness Suite is divided into 4 spacious areas, the bedroom, the living room, the terrace and the bathroom. Although this room is meant for 2, it has much more space than you really need. The room also ties in with the concept of the hotel being a spa hotel, with a separate area where massages can be had, outdoors or indoors.
The bedroom is furnished with a king-sized four poster bed with mosquito nets for mood, complete with a television, sofa and an armchair.
The living room doubles as a waiting area, with lounge chairs, tables, mirrors and closets with ample space.
The bathroom has a walk in closet for preparation, a toilet and a separate shower area. What is most unique is the indoor Jacuzzi, that has a bay window that can open up to the terrace. This makes a perfect lounging area if you have company, which you can entertain while enjoying the Jacuzzi.
The terrace area is huge, with daybeds around for lounging, sleeping or in-room massages. This area is perfect for lounging and reading, and although near to the swimming pool, is away from the bustle and noise, giving you much appreciated peace and quiet.
---
Fitness Centre, Yoga And Aerobics Studio
The hotel comes with a fitness centre, as well as a yoga and aerobics studio. The fitness centre has a well-equipped gym, perfect for a quick session. The hotel stays here also offer complementary yoga classes to patrons which can be arranged with the concierge. This is to align with their branding as a wellness centre and the perfect luxury getaway.
Swimming Pool
The swimming pool area is parked in a square, with deck chairs on one side, and opposite them, a makeshift waterfall. On both sides sit the Deluxe Pool Access Rooms, which let you step right into the swimming pool from the convenience of your room itself.
Baan Thai Conference Room
The hotel also houses a conference room, which is situated on the second floor of the Ruen RarinJinda, the main house of the hotel. This area is divided into one medium sized meeting room and two smaller meeting rooms. This area can be used for conferences, meetings, seminar, private parties and weddings. This space accommodates up to 60 people.
Library
The hotel has various sitting and waiting areas, but none are as comfortable as the library area. This area is filled with old collected books, travel guides and all sorts of reading material about old Thai traditions and histories. This area also has a tv centre with a DVD library and computers which you can use at your leisure.
---
RarinJinda Wellness Spa
Although not immediately obvious, RarinJinda Wellness Spa is a world class spa that has many offerings that you would not expect a hotel to have. The spa comes equipped with a hydrotherapy pool, ambient lighting massage rooms and top trained masseurs. As Wiwattanakrai puts it: –
"RarinJinda Wellness Spa, a premium and innovative Wellness Spa that harmonizes all life senses, is one of Thailand's leading wellness spa with expert therapists and the latest spa technologies. RarinJinda Wellness Spa offers clients wellness, good health and luxurious pampering in a spa sanctuary. RarinJinda is an urban spa fully equipped with all of the latest spa technology and facilities at high international standards, yet deeply rooted in the Thai massage and healing traditions. Experience this unforgettable spa experience in our multi-award winning World Class facilities. Some of our popular treatments include Classical Thai Massage, Elements of Life and Hot Stone Massage."
Firstly, you take your pick of the massage you want in the waiting area as you're served refreshments.
You then pick the essential oils you prefer before the massage, with one of the most popular choices being lemongrass.
You start off with a foot scrub in a Lanna herbal foot wash, made by a professional masseuse.
You are then led to a room for the massage in a private room or shared room for couples massage.
You also have the option of choosing one of the many hydrotherapy treatments equipped with the latest technology.
One of the best parts about post treatment is the attention to details, where you get served with a cup of ginger tea and mango sticky rice, an iconic dish of Chiang Mai.
---
Deck 1
The hotel is also home to one of the restaurants with the best views in Chiang Mai, serving contemporary European fusion with Traditional Thai cuisine. The restaurant overlooks the Ping River and is decorated with high hung lanterns which can be quite the scenic view at night. The best time to enjoy this view would be during the Loi Krathong Festival in November where they release candle-lit boats onto the river and lanna-style sky lanterns into the air.
The elegant presentation of their Khao Soi is served with chicken curry, and an almost massaman curry-like flavour. Eat with the condiments for the complete experience as the pickled cabbage and red onions adds quiet a nice dimension.
The Crispy Skin Salmon on Wasabi Mashed Potatoes in a Wakame Sauce was a unique blend of french techniques with Japanese ingredients. The umami flavour of the wakame sauce breathes life into the common creme base.
---
D Bistro
Although only a 10-minute drive away from the hotel, D Bistro is part of the hotel group and is located within the city square. This Contemporary Thai restaurant updates Lanna cuisine with a modern take, giving you quite an interesting experience with their interesting selection of local delights and coffee creations.
Tom Yum Goong Fried Rice has a good kick with an intense sweet and tangy flavour from the spices. The heat can be a little bold for some, but so fragrant that is a definite must try. The flavour from this humble fried rice is really spectacular, with pronounced flavours of lemongrass and galangal.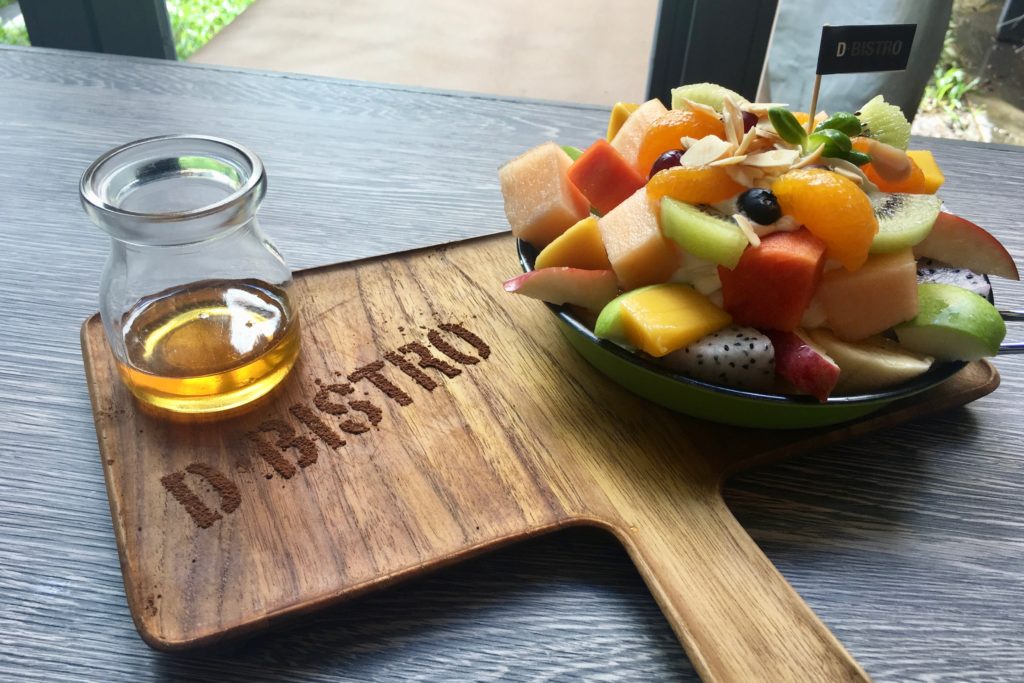 Tropical Fruit Pancake is a mountain of mango, dragonfruit, kiwi, melon and papaya served on a fluffy pancake, with a nice syrup to go on the side. They go quite heavy on the fruit that its almost hard to notice the fluffy pancake cushioned beneath.
---
The RarinJinda Wellness Spa Resort Experience
There are few places in Chiang Mai that offers this kind of luxury, a great spa experience all within walking distance of the hotel itself. In fact, RarinJinda offers some of the most relaxing spa experiences based on the plethora of different types of massages offered. When asked what sets them apart from other luxury boutique hotels in the area, Wiwattanakrai replied: –
"We give priority to our Wellness section in which half of the area of the land is hotel and the other half of the area is Northern Thailand's largest and most comprehensive wellness spa covering over 3,500 square metres. We set wellness activities for the guests with complimentary yoga classes with optional wellness cuisine. Our concept is "Beyond wellness, truly a paradise". Therefore, we want the customer to experience from the moment they walk in, and from the moment they walk out, a true paradise. They will be well taken care off as they were guests in our very own home. One-on-one customer service is provided while all staff at the hotel are ready to assist."
If you're still in doubt on where to get the best hotel spa experience in Chiang Mai, you don't need to look much further. For a complete guide on where to stay, what to eat and where to go, you can use our Travel Guide and Food Guide for reference.
For a complete travel experience, see our Travel Guide: Things To Do In Chiang Mai.
For a complete food experience, see our Food Guide: Chiang Mai Street Food.
---
RarinJinda Wellness Spa Resort Chiang Mai
1, 14 Chareonraj Road,
Wat Kate,
Muang, Chiang Mai,
50000, Thailand
+66 53 247000

| PHOTOGRAPHY BY: NICHOLAS NG & SIAM WELLNESS GROUP | WEBSITE: RARINJINDA WELLNESS SPA RESORT |
---