Nadodi: Tamil Nadu, Kerala and Sri Lankan Cuisine
Situated on the corner of Jalan Yap Kwan Seng sits one of Kuala Lumpur's more unique form dining in Kuala Lumpur, southern Indian fine dining cuisine. From its elevated take and refinement of traditional southern Indian fare, Nadodi takes you on a nomadic journey across Tamil Nadu, Kerala and Sri Lanka. In addition to that the cocktail programme is one that collaborates with the kitchen in curating its menu, where a syncing of flavours permeates both menus.



Sricharan Venkatesh, Kartik Kumar and Akshar Chalwadi
Nadodi takes its namesake from Tamil and Malayalam from the translation of the word "nomad" or "wanderer", in which their cuisine takes you on a journey across the three regions. The restaurant is headed by Chef De Cuisine Sricharan Venkatesh, Brand Director Kartik Kumar, and Head of Beverage Programme Akshar Chalwadi. Both Sricharan and Kartik are ex-Gaggan, and with them they bring that level of refinement expected. Nadodi however, focuses on southern Indian fine dining, which alone is a rarity.
"We wanted to more accurately showcase authentic southern Indian flavours. Having taken into consideration feedback from our diners. Our cuisine is constantly evolving because of where we are — Malaysia, a vibrant, multi-cultural country with diverse Malay, Chinese, and Indian culinary influences. We try to incorporate ingredients that are synonymous with Malaysian culture, paying homage to where we are today. For example, in this menu we created our first 3 bites, the Nadodi Trio, in which we pay homage to local Malaysian flavours like the famous Rojak which has been reimagined in the form of a Tart, locally sourced young jackfruit which we have pickled and given in the form of a choux pastry and the most appreciated staple, the bite of Malaysia & Nadodi which is the Nasi Lemak made using rice water which is aerated and dried accompanied with the sambal hijau." — Sricharan Venkatesh, Chef De Cuisine of Nadodi.
The Nadodi Experience Menu
Nadodi currently has 4 menus to choose from, the light Nadodi Express, the medium 7 Mile Journey and Vegetarian Journey, as the extensive Nadodi Experience. The courses are a mix of dishes from all three regions, and consist of flavours that are familiar to Malaysians, but refined. The first course of amuse were all tributes to Malaysia while the second course of amuse are all traditional southern Indian fare.
"For the longest time you see so many fine dining that is Indian but northern Indian, that is why when we started Nadodi we wanted to focus on southern Indian cuisine. Our cuisine is progressive Indian cuisine which compromises Tamil Nadu, Kerala and Sri Lanka. The three of us conceptualise our menu so our food and cocktail programme work together. When we first moved to Malaysia it was interesting because the flavours here are so familiar yet the names are so different. What we call dosa, Malaysians call thosai. What we call stringhoppers Malaysians call putu mayam. It was therefore easy for us to understand Malaysian cuisine pretty well." — Kartik Kumar, Brand Director of Nadodi.
The Nadodi Cocktail Programme
In addition to its refined food menu, Nadodi also has an interesting beverage programme, which includes a predominant Indian accent to its flavours, but equally as diverse and interesting. The use of a wide variety of ingredients and techniques, including a rotavap for distillation of a myriad of flavours in to alcohol for our cocktails such as smoked salmon to the Indian tonic-like rasam, a savoury soup.
"We don't like to let things go to waste in our restaurant, for example, we use a lot of the leftovers from the kitchen in our distillation process and as ingredients in our cocktails. This is where we work together to create the flavours that are mirrored in our drinks so they tell a story of the journey." — Akshar Chalwadi, Head of Beverage Programme.
Long: Gin, Wild Coriander, Fermented Pineapple, Gomme and Syrup
The first cocktail, a long drink, was a gin based fermented pineapple which has the pungency from the sawtooth coriander, also known as culantro (not cilantro). The tepache-like flavour of the cocktail was balanced and refreshing. Very delicate yet punchy.


NADODI TRIO
Rojak Tart
The first amuse, part of the Nadodi Trio, was a rojak tart which came complete with a mix of familiar crunchy fruits, including jicama, cucumbers and a rojak sauce gelée. Sharp and vibrant, great as the first bite.
Pickled Young Jackfruit Choux
The second amuse, part of the Nadodi Trio, another tribute to the Malaysian native fruit, was a punch of savoury and spicy pickled young jackfruit stuffed in a charcoal choux. The textures complemented each other while the flavours were an explosion of spice and aromas.
Nasi Lemak
The third amuse, part of the Nadodi Trio, was a meringue puff which emulated a burger, with the fragrance of rice and a spicy layer of sambal and cucumber.
Frozen Lake
Meat: Smoked salmon infused gin, wild fennel-basil distillate vodka and chilli oil
The second cocktail, a savoury cocktail, had a prevalent aroma of smoked salmon, but yet none of the fishy flavour, but a smoky one. The fennel basil was present throughout, and definitely for the umami lovers, all chilled by an ice-cold stone. A delight no only on the palate, but also on the eyes.
STREET STAPLE
Dosa, Sambhar and Chutney
The fourth amuse, part of the Street Staple, a Tamil Nadu staple dish, was a paper thin and delicate dosa, stuffed with a sambhar, made from lentils like a dhal, and chutney. The paper this was a great example on how you refine a dish we all know so well into something so delicate. Truly stunning.
Kappa Fry
The fifth amuse, part of the Street Staple, a Kerala dish, consisted of masala spiced tapioca mash coated and deep fried. A dollop of sambal hijau and oxalis petals decorates the top. Another punch of flavour, the small bite was full of umami, crispy and aromatic.
Confit Duck Puff
The sixth amuse, part of the Street Staple, was a curry puff. Although a very popular and humble South East Asian snack, the curry puff was filled with decadent and deeply umami duck confit in a flaky pastry. A very elevated form of a comfort street food.
Sour: Peated Whisky, Lillet, Mango Kombucha And Ginger
The third cocktail, a whiskey sour twist, was the Laphroig based cocktail, with mango kombucha and ginger as its base. The cocktail was well balanced, with the smokiness of the whisky still prevalent, served with a slice of mango crisp topped with a tart frosting.
Shell Out
Hokkaido scallops, truffle sodhi brûlée
For people familiar with Sri Lankan cuisine, you would be familiar with what the sodhi is, usually formed with a base of turmeric and coconut. The sodhi here however, was elevated with the use of sashimi grade Hokkaido scallops which were perfectly seared and served with a fluffy sodhi brûlée topped with burnt desiccated coconut. This gave the dish both a perfect play on texture from the crunch with each bite and coconutty sweetness in the form of an airy crème. An outstanding dish, and one of the best dishes on the menu.
I Am So Prawny
Cumin and carom seed flat bread, sakura ebi and river prawn kheema
Keema is usually made from mincemeat and is found throughout the Indian subcontinent, and is usually made from beef or lamb. However, the one at Nadodi has a pronounced sweetness from the cooking, coupled with the crunchiness from the sakura ebi, perfectly eaten with the speckled spiced flatbread.
"This dish was actually accidentally discovered in our kitchen one day when they accidentally ground up prawns instead of meat. We tasted it and loved the flavour, so we decided, why not, let's see where this takes us, and created a dish for the menu." — Kartik Kumar, Brand Director of Nadodi
Pumpkin Erussery
Pumpkin 3 ways, coconut espuma and apricot meringue
Erussery, or erissery, is a traditional Kerala dish made from pumpkin and lentils, but the interpretation here came off better as an outstanding palate cleanser. The dish was served with a pumpkin sorbet, coconut espuma, apricot meringue and flavoured sugar shards. A brilliant little palate cleanser, although would have made a great pre-dessert too.
Picnic Indoors
Sour: Scotch, hand pressed tamarind juice, earl grey, chilli tamarind bitters
The fourth cocktail, was a whiskey sour twist, with the flavour of tamarind juice giving that sour umami flavour, with floral hints of the earl grey. A very delicious cocktail that came with a slice of tamarind leather.
Meen Curry
Crusted madai, nellai fish curry and black garlic
The nellai curry is a dish that is found in Tamil Nadu cuisine, which translates to fish from Telugu, and is served with a madai. The delicate fish is crusted with ground rice and spices giving it's a gritty texture on the skin. The curry is lined with black garlic and topped with deep fried rice noodles which crack upon the hit of a spoon. The punch of flavours from the deep spicy flavours of the curry, the delicate flaky fish and the sweet umami of the black garlic is not only a feast for the eyes, but also a feast for the palate. Another outstanding dish.
Humble Broth
Tomato rasam, red quinoa and finger lime
The humble broth is one of their signature dishes, a clarified and purified tomato rasam broth, complete with intense flavours and spices. In addition to its dramatic display, this very clever dish is served with red quinoa and finger limes to emulate the grit and grain you would traditionally get in a rasam, but with burst of sour from the finger lime and crunchiness from the red quinoa.
Stolen Moments
Sour: Rapid infused turmeric gin, organic passionfruit, house made spiced frosting
The fifth cocktail, a gin cocktail, was made with turmeric infused gin and had the zesty flavour from the sweet and sour passionfruit. A very easy drink with lots of flavour. The spiced frosting of acid and chilli added a nice touch to the cocktail making it quite moreish.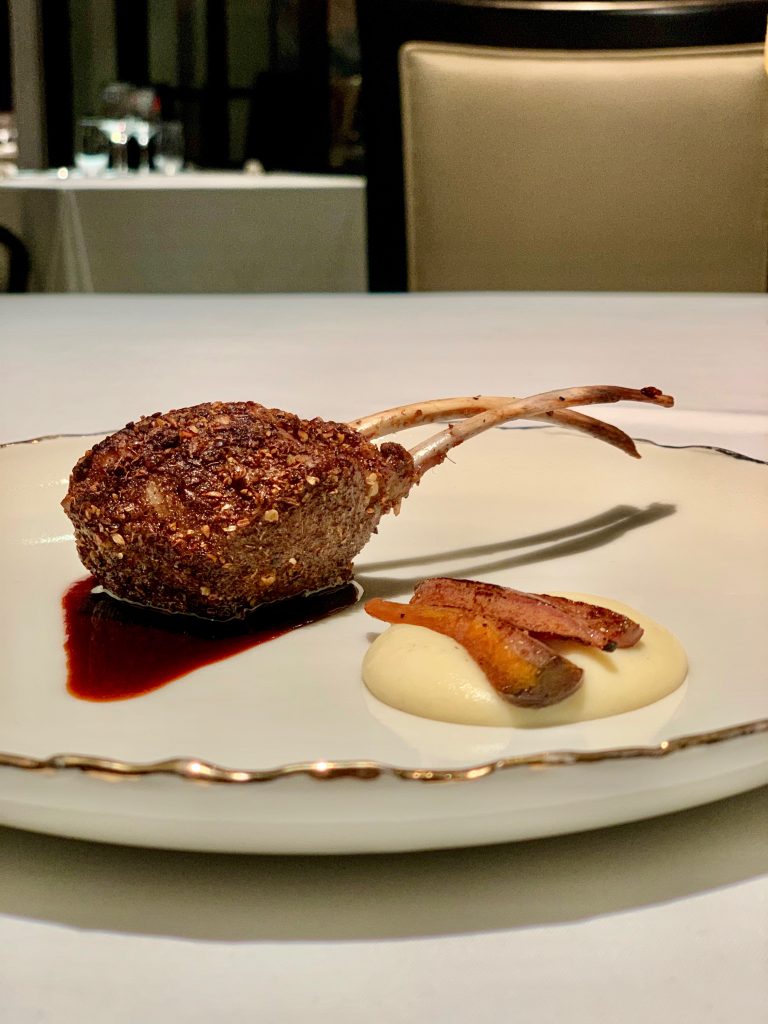 Iberico Lamb
Iberico lamb chops, comte mash, spiced jus and charred carrots
The protein course of the meal, the lamb rack was cooked perfectly and had a nice crust of spices on the top, packing quite an interesting flavour. The mash was devine, with the right pungency that could only come from a comte.



Nadodi Globe
Short grain venison briyani, aubergine salna, yacon and cucumber raita
The Nadodi Globe is one of their signature dishes, and in addition to the gamier and more decadent meat of the venison used, their Tamil Nadu salna is perfectly crusted with a sweet brûlée while the crunchy sweet yacon and cucumber adds a cooling temperature dimension. However, what really is the star of the dish is the rice itself, a form of short grain rice known as jeera rice, named after the shape of cumin.
The End: Goat's Cheese, Clarified Strawberry, Flora and Sencha
The sixth cocktail, one to close the dinner, was clarified goat's cheese cocktail. The aroma and flavour of the goat's cheese lends much umami to the drink, with a complex dimension added from the strawberries and sencha. The goat's cheese crisp with the chilli frosting was an interesting last bite.


Mind Of A Coconut & Fruit Leather Butterflies
Semai chocolate gateau, pradhaman ice cream, banana syrup and salted caramel
The dessert was an interpretation of the Kerala pradhaman, usually a warm dessert. The ice cream had a nice fragrance of the cardamom, and was also served with fininshings of chocolates and beautiful butterfly fruit leathers on a tree.
Post MCO Nadodi Experience
In light of the Covid-19, restaurants around the world have taken extra precaution to ensure guests that all precautionary measures are taken, and Nadodi is no different. From the spaced out tables to all servers and kitchen staff wearing masks at all times, the restaurant goes so far as to put hand sanitisers on each table ensuring their patrons feel safe and secure.
Nadodi is a restaurant listed on the 50 Best Discovery.
---
Nadodi
Lot 183,
1st Floor, Jalan Mayang,
Off Jalan Yap Kwan Seng,
50450 Kuala Lumpur.
+6017 296 9520
Opening Hours:
Mondays to Saturdays, 6.00 pm to 10.00 pm
Closed Sundays
| PHOTOGRAPHY BY: NICHOLAS NG & NADODI | WEBSITE: NADODI |