Situated on the newly gentrified street of Jalan Batai is a series of restaurants and bars, and out of the many niche and chic eateries here lies one that stands out because of its choice of cuisine served, modern Thai, simply named Ekkamai. This restaurant specialises in two distinctive Thai regional cuisines, Southern Thai cuisine and Central Thai cuisine, all in a contemporary setting.
The interior of the restaurant is dimly lit, yet lights, lamps and fabric of vibrant colour still manages to permeate the space, invoking a warmth that is very typically Thai. The décor is modern with oriental touches and different spaces which gives it a cosy feel, yet is not too close for comfort. One of the feelings that this restaurant manages to do is play to its strengths as both a great place for a romantic dinner or a meal with the family.
The kitchen at Ekkamai is helmed by Executive Chef Phatson Chanthalangsy, better known as Chef Awee. She has been professionally cooking from the age of 23, and at 27, moved to the UK where she was with Silk & Spice for 4 years. There, she started her relationship with The Social Group, which was owned by Ek and Mei, current owners of Ekkamai. She then relocated to Malaysia and joined Planter's Jim, serving Thai cuisine in Malaysia. Her cooking style is distinctively from two of Thailand's regional cuisine, Southern Thai cuisine, which is quite similar to Northern Malaysian cuisine, heavy on Muslim cooking styles, and Central Thai cuisine, which is influenced by Chinese Thai cuisine. When asked what her philosophy to cooking is and what items on the menu she recommends, she stated: –
"It all stems from cooking a wonderful meal that brings joy to people. A fulfilled tummy is a happy tummy, and in turn, that in itself brings fulfilment to me. My favourite dishes on the menu would be the Tom Yum Goong, Green Curry Chicken and Pad Thai – all classic Thai dishes. But if I really had to choose, Pad Thai would top it. It has also proven to be Ekkamai's customers' favourite." — Phatson Chanthalangsy, Executive Chef of Ekkamai.
The Dining
The predominant flavours at Ekkamai are some that most people from around the world are very used to, namely Tom Yam and Pad Thai. But in addition to that, there are quite a few fusion dishes, as well as some Lanna and Isan cuisines. The key to Central Thai cuisine is the prevalent use of Chinese style cooking, such as ladna, which is akin to the Chinese hor fun noodles. The roasted duck red curry is another indicator of Chinese influence on Thai cooking.
The first dish, an appetiser platter, was the Play Thaim Platter. This dish consisted of Crispy Fried Garlic Lemongrass Chicken, Sesame Prawn Toasts, Grilled Chicken Skewers, Prawn Sarong, Pandan Chicken, Thai Fishcakes and Caramelised Noodles. The sesame prawn toast stood out the most amongst the dishes, with succulent prawn mince giving it a nice and springy bite. The Thai fishcake, tod man plaa, is also a classic Thai dish, which also stood out for its nice piquant flavour, which was a good mix of ingredients, where you can still feel the crunch of the lemongrass, and not just stuffed with paste as some places do.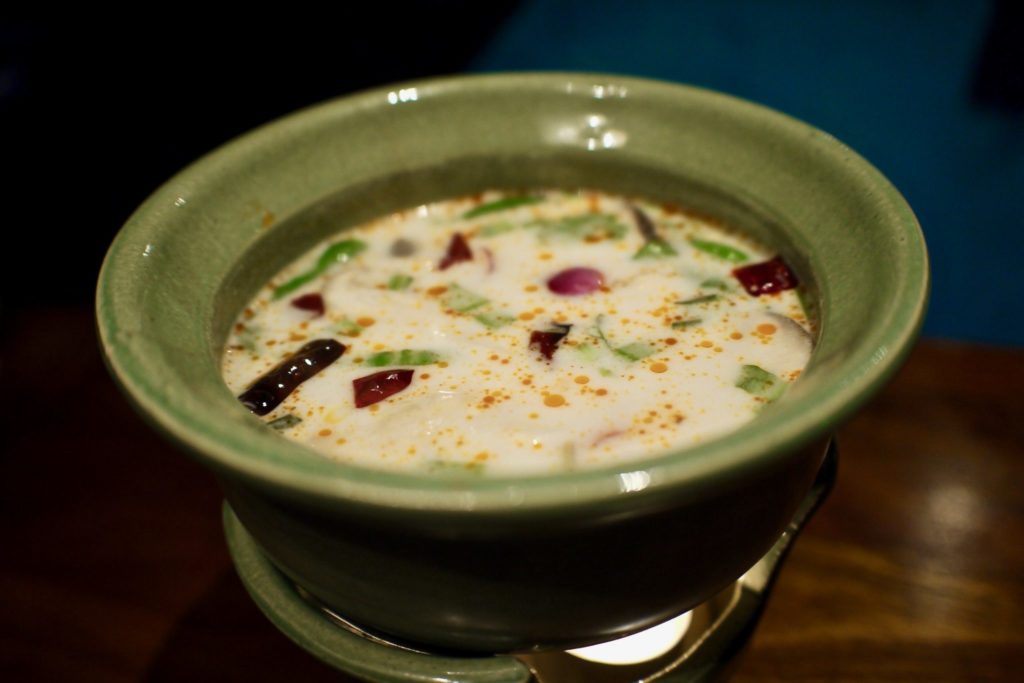 The second dish, a soup, was the Tom Kha. This soup is cousin to the Tom Yum, and is made instead with galangal, light coconut milk, coconut flesh and chicken slices. This dish is lighter than a tom yum, and less spicy, both due to the ingredients used, and also because coconut milk is used as a base. I would recommend this for people who want to try something different from a tom yum.
The third dish, a salad, was the Salmon Belly Tataki Salad. This dish is made from seared salmon belly with a Thai dressing and crispy garlic flakes. The crispy skin on the salmon belly tataki gave a nice crispy bite to the dish, complemented with garlic and nam plaa, a Thai fish sauce. This is definitely a highly recommended dish, and a perfect example of how there is so much more to expect from Thai-Japanese fusion cuisine.
The fourth dish, a salad, was the Crispy Fish Salad, made of crispy catfish and a mango salad with cashew nuts. This dish is a typical central Thai cuisine dish, consisting of deep fried and desiccated catfish, served with a young mango salad. Most people trying for the first time are not able to discern that this is actually fish, what more catfish.
The fifth dish, a house special dish, was the Homok Seafood. This is a Thai style otak-otak with prawns, squid, mussels and scallops in a spicy mousse. This is typical of Southern Thai cuisine, and is quite similar to otak-otak in Malaysia and Amok in Cambodia and Laos. The mousse itself is a little more solid than otak-otak, but has a more profound lemongrass flavour.
The sixth dish, a grilled seafood dish, was the Grilled River Lobster. This dish is grilled on the Josper grill, consisting of a river lobster, what Malaysians would call giant fresh water prawns in a sweet garlic soy sauce, served with a traditional Thai green chilli dipping sauce. You can't fault a dish like this if you like seafood, as the Josper grill ensures that anything cooked is not overcooked.
The seventh dish, a grilled chicken dish, was the Chiang Mai Grilled Chicken Wings. This dish is typical of Northern Thai cuisine, also known as Lanna cuisine. The chicken wings are grilled over hot coals, served in the tradtional Lanna style with a raw papaya salad known as som tam, and with sticky rice served in a rice basket, along with a nam phrik, a spicy Thai sauce. This dish is unique on its own that you can have it as a stand-alone meal. The chicken is very flavourful and succulent, and definitely comes highly recommended.
The eight dish, a beef dish, was the Weeping Tiger with Egg Fried Rice. This dish a wagyu beef that has been cooked on a hot plate, ensuring that its cooked perfectly. Still pink on the inside, this dish was cooked perfectly, but do caution to take it off the hot plate for fear of overcooking.
The ninth dish, a fish dish, was the Steamed Red Snapper. This dish is steamed quite simply with lime juice, chilli, garlic and coriander. Typical to Chinese cuisine, fish is usually steamed quite simply to savour its freshness. This dish has its origins with the Chinese Teochew steaming style, which is prevalent with the use of coriander, and the Thai influence of chilli. The resulting broth is usually has sweetness from the fish and tang from the lime juice, a dish that relies heavily on the freshness on the fish.
The tenth dish, a vegetable dish, was the Kai Lan with Salted Fish. Another typical of Central Thai cuisine, this dish is simply stir fried with salted fish, another dish of Chinese influence.
The eleventh dish, a noodle dish, was the Wagyu Radna Beef Noodles. This dish uses flat rice noodles, also known as hor fun in Chinese or Kway Teow in the Hokkien Chinese dialect, is wok fried till charred and smothered with a thick gravy, topped with grilled wagyu ribeye. This gravy itself contains preserved black beans and has a strong umami aroma. This is a fine example of how a humble dish can be elevated in the right way.
The twelfth dish, a dessert, was the Red Rubies. Also known as thapthim krop, this dish consists of water chestnut pearls that has been coated in syrup and red colouring, and served in a coconut milk on shaved ice with jackfruit slices.
The thirteenth dish, a dessert, was the Coconut Jelly. This dish consists of young coconut strips solidified in a coconut jelly, served with a side of palm sugar syrup known as gula Melaka. This refreshing dessert is a classic.
The fourteenth dish, a dessert, was the Mango Sticky Rice. This dish is sweet sticky rice served with fragrant Thai mango and coconut cream, topped with rice puffs. A definite favourite and highly recommended.
---
Ekkamai Bar
Ekkamai also served a number of great cocktails, and is a perfect spot for an afterwork drink. One of their standouts would be the Thai Song Beer, a beer cocktail in which a whole bottle of singha beer in upturned into a mixture of liquors and mixers, Definitely worth a try.
---
The Ekkamai Experience
Ekkamai has managed to preserve a lot of the traditional Thai cooking, and for beginners, this is a great place to explore as their dishes here have managed to elevate the street food experience using quality ingredients. They have manage to create quite a diverse Central Thai and Southern Thai cuisine as seen in Ekkamai's Menu, and for something lighter, there is also Ekkamai's Set Lunch Menu. When asked what influenced their decision to start a restaurant as such, they quipped: –
"The owners being one-part Thai, one-part Malaysian was one of the key factors that influenced and inspired Ekkamai's menu. After many years of trial and error, the owners' global travels and months of food testing and tasting lead to the menu you see today. Of course, the customers' demands also play a large part in determining what dishes stay or go on the menu. Ekkamai's demographic is very urban, affluent and upmarket. They are discerning diners, well-travelled and know how to enjoy a good meal. Therefore, you will be able to see nuances of other cultures in the style of cooking. For example, the Robata Grill originated from Japan, but because of how it makes the meat retain its moisture and juiciness, it has been incorporated into the menu. Also, we seek to create an authentic Thai experience in a modern, sophisticated setting. Food has to be excellent, ingredients freshly sourced and cooked well and non-gimmicky. Our service has to genuine, friendly and attentive. In short, unforgettable in every sense of the word. " — Pei Shyen Choong, Brand Development Manager of The Social Group.
For an interesting and authentic Thai cuisine experience in a comfortable setting, do visit this restaurant.
---
Ekkamai Bar & Thai Kitchen
Lot 8-1 & 8-2,
Jalan Batai,
Bukit Damansara,
50490 Kuala Lumpur
+603 2095 2772
Opening Hours:
11.30 am to 1.30 am

| PHOTOGRAPHY  BY: LILA BAKAR & THE SOCIAL GROUP | WEBSITE: EKKAMAI BAR & THAI KITCHEN |
---