The good folks at Chivas Regal and Pernod Ricard Malaysia has started a new online platform, Bar United, which brings together some of Kuala Lumpur's favourite bars under one roof. Patrons will be able to attend bars online together, as well as order cocktails and food that can either be delivered to your doorstep or kept for credit to be used at their respective bars. In addition to that, there are a number of other functions such as online retail and masterclasses to be experienced. We speak to some of the participating bars to get their thoughts.
Bar United: Virtual Cocktail Bars
There are a few sections that you can browse through, including Bar-Tails, a selection of bars where you can order cocktails from your favourite bartenders. This initiative not only allows you to hang out with your companions virtually, but also helps the bars out in this difficult time. For those looking for something more, Bar Talks, where masterclasses are held, as well as The Marketplace, where you can purchase whole bottles off Shoppee.
Bar United Participating Bars
61 Monarchy
Astor Bar
Bar Tailor
Botak Liquor
Circa
Dissolved Solids
Happy Stan
Hyde
Jann
Junglebird
Locker & Loft
Resocial Dessert Shop
Rock Bottom
Saro
Soul Room
The Cabinet
The Iron Fairies
Three X Co.
---
What The Bartender's Think
We spoke to some of the bars to find out what they thought of this initiative as well as as some of their personal recommendations that you should order to try for yourself.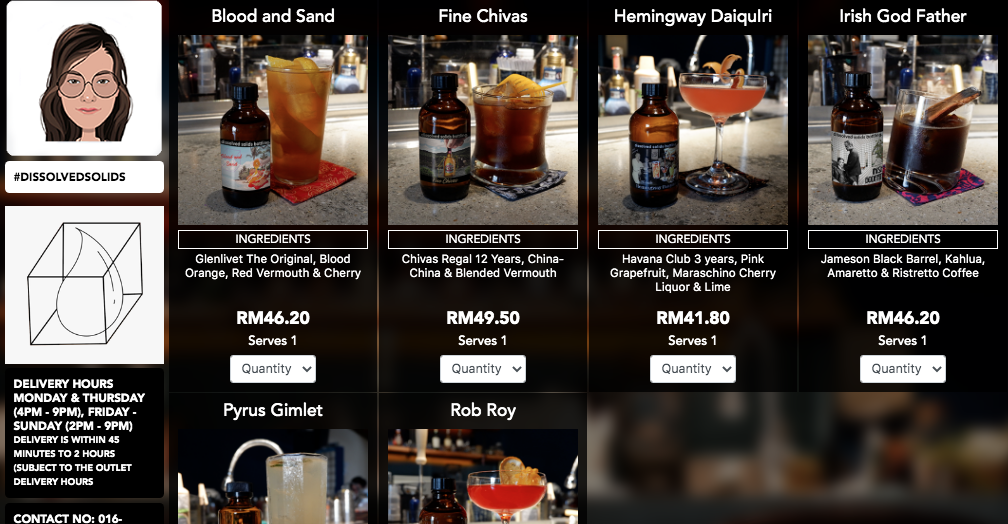 "I think that Bar United is a platform where people can get different variations of cocktail they can choose from, and at the same time, a very interactive platform for consumers to mingle around to make them feel like they are still there with their friends. The items i would recommend is really based on the consumers flavour profile where there are many variations. For floral refreshing u can get the Pyrus Gimlet, and for a coffee kick the Irish Coffee, and for a bittersweet spirit forward u can get the Fine Chivas." — Tracia Chan, Dissolved Soilds.
A wonderful initiative by Jasper and the team at Pernod Ricard Malaysia. I can't help but feel like the bar community is very disconnected at the moment due to current restrictions. Bar United has been a great way to reinstate some of that feeling of family. There's some really creative offerings amongst the bars. Especially making use of canning machines. 'Nuts About Negronis' is an interesting take on a white Negroni. — Joshua Ivanovic, Jungle Bird.
"Its really a great initiative to help the bar industry. The platform is very interactive like a big event space with different nodes. Other than supporting the bars you love by purchasing their cocktails, I strongly urge members to check out the masterclasses by the different brand ambassadors." — Angeline Tan, Three X Co.
"I think Bar United is a fantastic  platform for the bar community to leverage on in these special times. The biggest challenge we face today is not being able to physically meet with friends for a drink at a cool bar, order a bespoke drink from an even cooler bartender and bask in the ambience and energy of a great evening out, but with Bar United's online ordering platform, we can recreate the good times in the comforts of your home. My personal favourites from the  Astor Bar menu has to be the Astrid, Rob Roy and the Rat Pack Rusty Nail, mainly because they are measured at three cocktails in one order… because one does not just order one drink when at a bar!" — Ho Boon Leong, Astor Bar.
"Bar United is a great initiative in these troubled times for cocktail bars. I love how PRM pivoted, and connects consumers with the bartenders and their creations. Would love to see a future option where they can actually interact via chat with the bartender directly too. From Botak Liquor, I suggest the Daun Kari – a vodka, pineapple and curry leaf milk washed cocktail. Another favourite is the Kelapa a coconut oil and banana flower clear negroni." — Rick Joore, Botak Liquor.
"I was absolutely amazed when Jasper (Chivas Regal BA Malaysia) told me that they will be launching a Virtual Bar World programme for the Bar industry and he ask if I would be keen to be part of the programme. I didn't think twice if there was any terms and conditions to be part of it and said "How can we be part of this brilliant and meaningful project, Jasper?" I would like to believe that the Bar United programme is a rather effective solution to support the bar industry in the long run. I mean we don't necessary have to physically be at a bar to enjoy a good drink or socially contact in real life with friend or loved to enjoy the moment. I also would recommend The Mango Word, Yāsamīn Breeze and the Tipperary." — Karl Too, Happy Stan.
"It's a smart move on their part, both short and long term. They get to utilise PRM products, and the bars get the ability to reach peoples homes at competitive prices. It's these kind of out-of-the-box solutions that will make all the difference in the world to some businesses." — Alex Byrd, The Cabinet.
The Bar United Experience
The Bar United programme is definitely a very progressive platform for patrons of different bars to keep in contact and "hang out" in times of isolation as this, but in reality, it is quite a fun little website that lets you do many things as well, including ordering drinks from different bars for a night in, perhaps one or two from here and there. All in all, a great initiative by Pernod Ricard Malaysia. Bravo.
| PHOTOGRAPHY: NICHOLAS NG | WEBSITE: BAR UNITED |